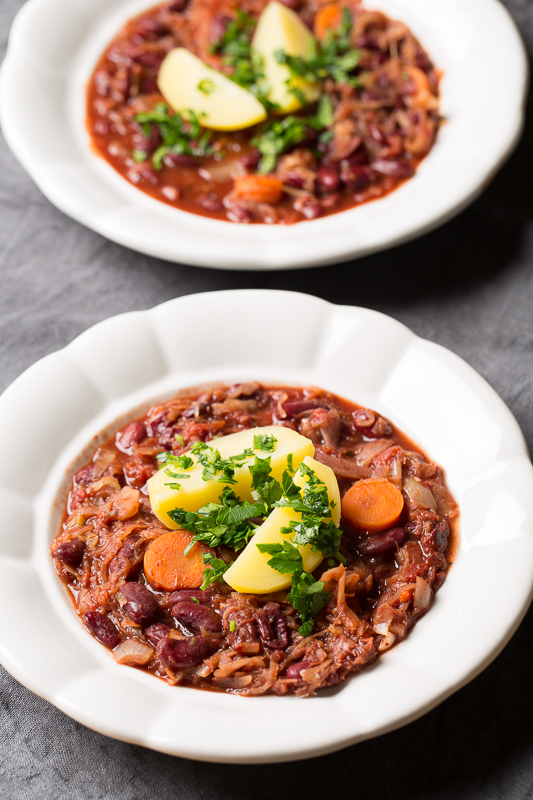 05 Feb

Sauerkraut Bean Stew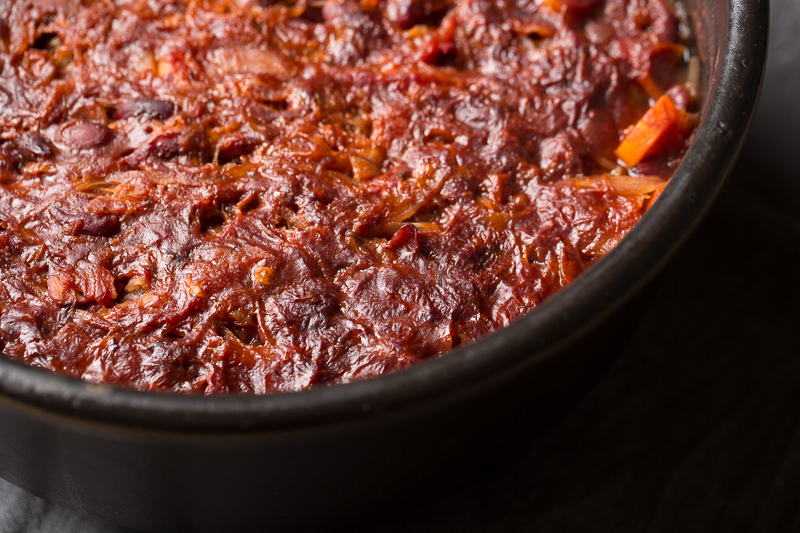 I did a little research about this recipe and found out that it is a classic Adriatic stew and is called Jota. You'll probably find variations of it in Italy, Slovenia and Croatia. I know it from my own upbringing and it is one of the classic stews that my father used to make. Originally it is made with smoked pork. I have adapted this recipe to be vegan and to be honest I never really miss the meat but I do like a little smoked paprika to give it a nice smoky and savoury taste. I have added my preferred spices and herbs so once again I wouldn't dare to call this recipe authentic. It is delicious, though and I'm sure that when you taste it once you won't forget it. When prepared well, bean stews are always delicious, so I don't find it really necessary to try and substitute meat at all. This is an absolute favourite in my family and the kids especially love it. If you haven't tried beans and sauerkraut before you are going to be in for a treat. I make beans at least once a week and this is a staple, especially in the heart of winter when we need something to warm ourselves. There is something very soothing about bean stews and this is seriously good comfort food. I hope you give this a try and I'm sure you will be pleasantly surprised. For those concerned about the healthy benefits of sauerkraut being destroyed by cooking. This recipe does require cooking the sauerkraut and the nutritional benefits come from the long cooking time and the yang energy being strengthened. So, I do believe that this recipe is ideal winter food that really warms you. The addition of bay leaves and caraway seeds also aid in digestion.
This is a lengthy recipe, so I suggest that you make this on a weekend day or whenever you have more than enough time. This is definitely slow food. No short cuts. Unless you use canned beans which I don't recommend. I will link you to an older post where I go into detail about how to cook beans from scratch. Planning is also key. So, soaking your beans overnight are a must. Sorry! However you will be rewarded with wonderful beans as the basis for this amazing stew. The reason why some people have problems with eating beans is because they don't prepare them properly, that I'm convinced of. To be able to digest them properly soaking is so necessary. Some would argue that it doesn't make a difference but in my case I have tried all methods and I have had the best results both in texture, cooking time and digestion by soaking overnight. In addition to that it takes the thinking out of my head. When I soak beans I know what I will be eating the next day which makes my life simpler and I procrastinate less. So, there you have it only pros. Before I bore you with more pro-soaking benefits let's just move on the recipe. I would be curious to hear your experience with beans and whether you soak your grains, nuts and seeds as well. I must say I am a little lazy in the other departments, especially when it comes to fast cooking grains like quinoa but if I plan enough in advance then mostly I succeed in soaking those too.
I'd be delighted if you share or tag me on Instagram #veganart and report back to me about how it went. I hope this will become a family classic for you too.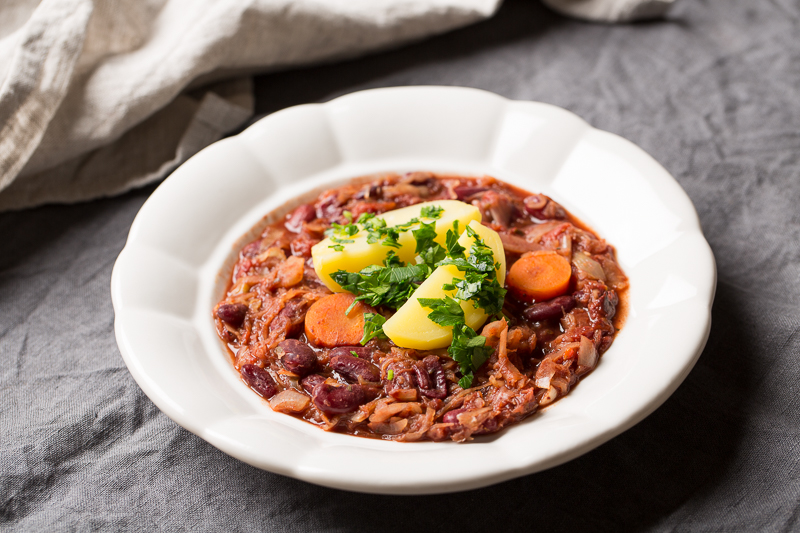 Sauerkraut Bean Stew
Ingredients:
500 g kidney beans
1 bay leaf
1 clove of garlic
1 sprig of rosemary or 1 Tbsp rosemary
1 dried chili
250 g sauerkraut
3 carrots, peeled and chopped
2 celery stalks, cut into small pieces
2 onions, peeled and chopped
2 cloves garlic, peeled and chopped
1 tsp marjoram
1 tsp ground caraway seeds
1 tsp paprika, sweet
1 tsp smoked paprika
4 bay leaves
2 Tbsp tomato paste
1 can whole tomatoes
To serve:
1 kg potatoes, peeled and quartered
one bunch of parsley
Method:
The night before, soak the beans in plenty of water in a large bowl.
The next day drain the beans and rinse them in cold water. In a large pot combine the beans with plenty of water to cover the beans, the bay leaf, garlic clove, chili and rosemary and 1 teaspoon of salt. Bring the beans to a boil and remove any foam that has risen to the top. Lower the heat and cook for about an hour until the beans are soft but still hold their shape. This can vary depending on how fresh the beans are. Set aside saving the bean water.
Add some olive oil and salt to season and set aside.
In a large pot (preferably a cast iron pot or oven proof pot) add one tablespoon of olive oil and add the onions, garlic, carrot and celery and saute for 10 minutes before adding the bay leaves, marjoram, caraway seeds, paprika and smoked paprika and cook for another minute.
Add the sauerkraut and continue cooking until the sauerkraut has browned a bit.
Now add the tomato paste, can of tomato and beans and as much of the bean water so that it just covers the bean stew, about 2 cm above. Taste and season with salt or pepper according to your taste. At this point it should taste very good already.
Cook on top of the stove while you preheat the oven to 180 °C. Place a rack in the middle of the oven.
Put the lid on your pot and place it carefully into the oven and bake for 30 minutes with the lid on.
After 30 minutes, remove the lid and if the beans look dry add some of the bean water and continue baking for 30-45 minutes depending on how creamy you want your beans. The longer you bake them the more crusty the top will become. I love it when the top is crusty and inside the beans are meltingly tender.
While the beans are baking you can prepare and cook the potatoes.
Peel the potatoes and cut into quarters and place in a pot and cover them with enough water so that they are just covered. Salt them generously and bring them to a boil and cook for 15 minutes. Once they are cooked, drain the water and leave on the stove with the lid on.
Remove the beans from the oven and serve the beans with the potatoes garnished with parsley.
Bon appetit!