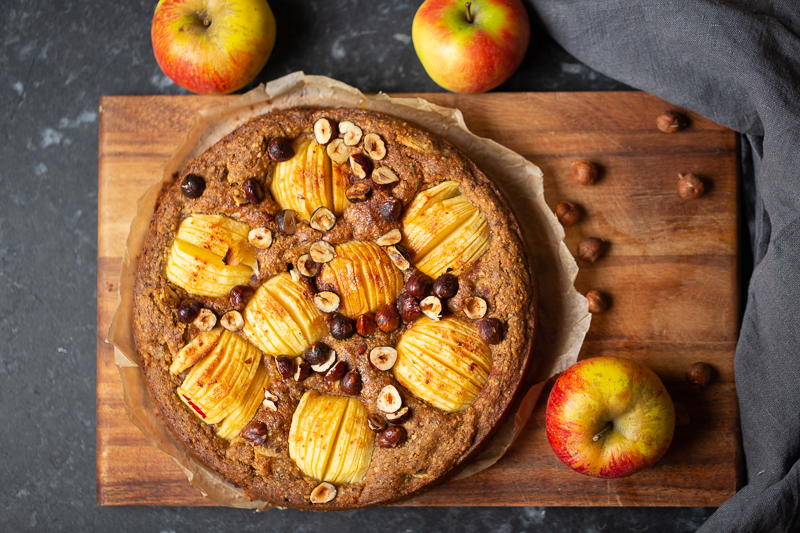 26 Nov

Gluten-free Apple Hazelnut Cake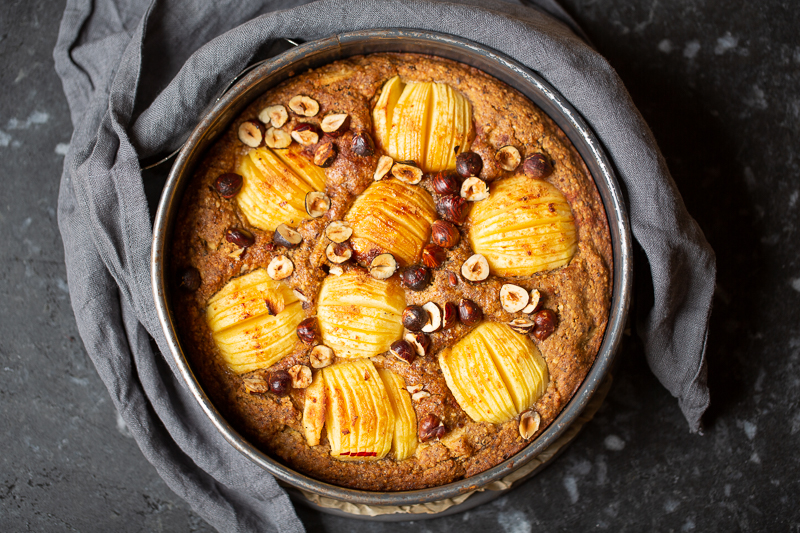 Fall deliciousness
After a lengthy blog abstinence it always feels like stepping into water after a long winter in layers and layers of clothes. It feels strange, unfamiliar and a little bit unsafe as well. All kinds of thoughts also pop into my head about the sense of blogging and why I am here. Who needs yet another apple cake recipe? I guess no one. On the other hand, I don't need to explain myself to anyone and I can use this space to express myself and to document the more or less successful recipes I've created. This particular one has all the flavours I associate with fall wrapped up into one delicious cake.
I've been struggling lately with all kinds of health issues and it has thrown my culinary journey off board. It started with a dry, red rash on my face that spread to other areas and a series of UTI's that got worse and worse. As I always do when I am challenged with something, I start researching what I can do and I stumbled across the Medical Medium and started drinking celery juice every day. That didn't seem to help that much so I decided to remove most inflammatory foods from my diet (no coffee, sugar, alcohol and gluten). I have basically been dairy-free for the longest time so that wasn't difficult but I was confused that it didn't have any impact. As far as I can tell so far, this is not a linear journey and finding lasting solutions is not going to happen overnight. There is a lot of trial and error and I have to be willing to go through some disappointments as well as successes. The outcome is uncertain but I am getting to know myself better in the process. I believe all health conditions have a psychological, emotional and spiritual component and the condition is trying to tell me something and if I listen to myself closely enough and learn to read all the signals that my body is telling me most likely I'll be able to help myself better.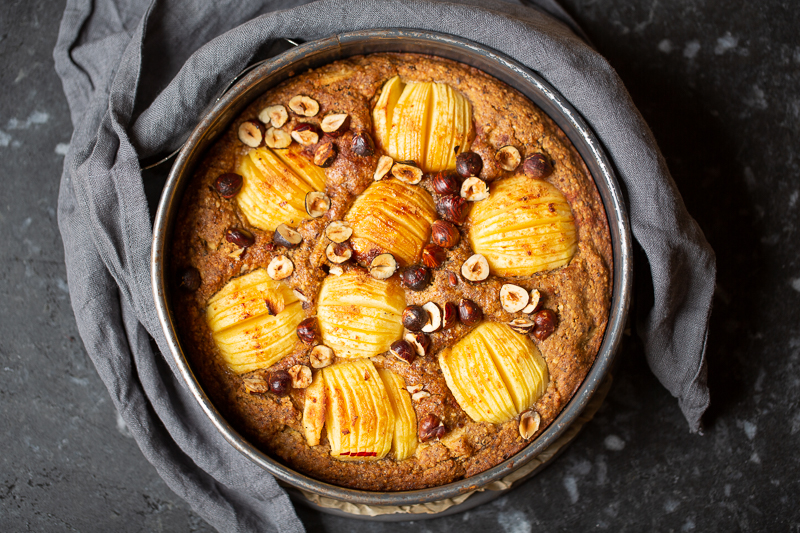 I'm sure for some this may sound a bit woo woo or esoteric but I have made the experience that a lot of conventional practices have not helped me and I have been forced to find other ways of dealing with it. I did go to several doctors in the last months but I can honestly say that I haven't found answers yet. I have to keep on trying and if I told you all the things I've tried already you would probably be astonished. If you have any suggestions or want to share your own journey please feel free to connect with me. I would love to hear what has helped you. Forgive me for side-tracking here but I really needed to share that. It is basically the reason why I have been away from this space for this long.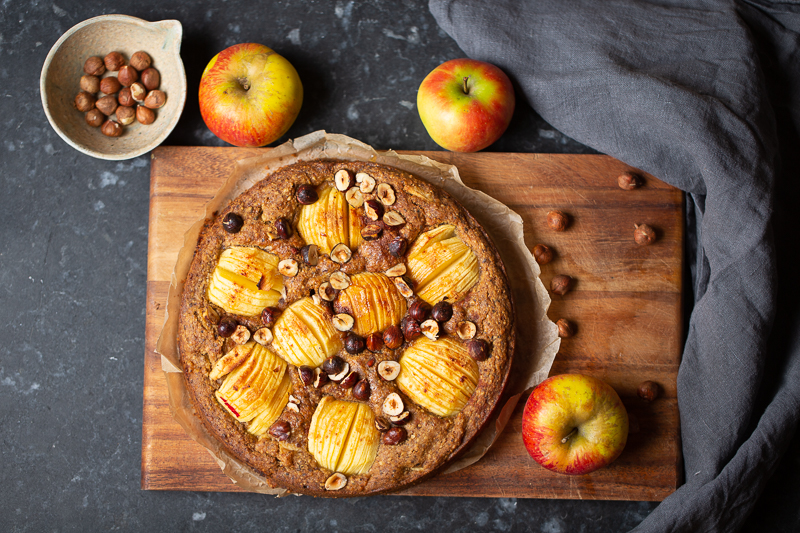 So, back to this recipe. I have made an effort to make a healthy cake that happens to be as delicious as any cake you would find for the sole purpose of indulging or treating yourself or your loved ones to something special. It is easy to make and requires relatively few ingredients. This time I used a gluten-free flour blend from the company Werz to make things a little easier. No blending of different flours is required, just the addition of ground hazelnuts and oats.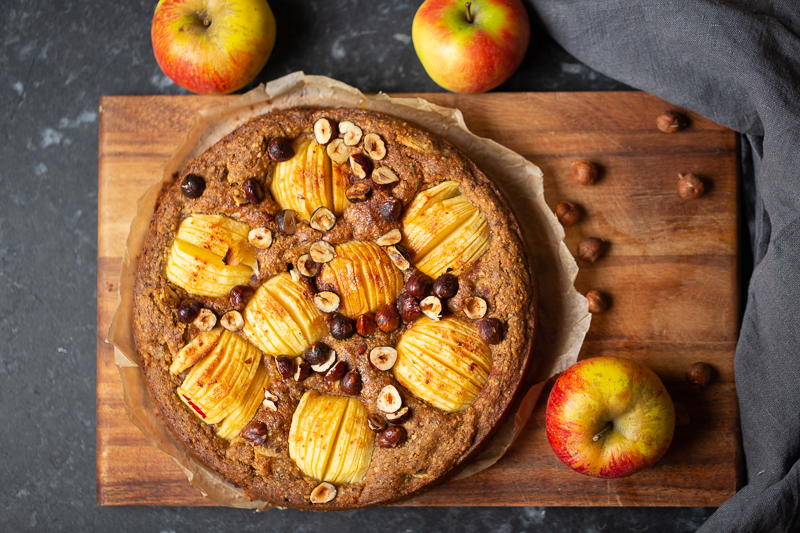 What you need and some substitutions
This cake has a the potential of becoming your favourite recipe for a variety of seasonal fruit cakes. The variations are endless: instead of hazelnuts you can use almonds, walnuts or even chunky pieces of dark chocolate (Mmmmh!). For the fruit you can use berries or apricots and peaches in the summer, plums and figs in late summer and fall, quince and cranberry in winter and strawberries and rhubarb in spring.
The base of the cake is a fruity olive oil. If you can, try to use the best quality olive oil you can get your hands on.
With the addition of aromatics like rosemary or lemon thyme you can add herbal accents and with delightful rose petals you can give your cake a floral note. The possibilities are endless!
Hazelnuts are what give this cake its rich and nutty flavour and moist and soft crumb. Toasting them prior to baking releases its oils and enhances their flavour. Save some to garnish the top of the cake with.
Vanilla powder or better yet a vanilla bean enhances the warm flavour of the hazelnuts and apples. The powder is cooked with the milk to infuse its deliciousness throughout the cake.
Baking powder and baking soda help the cake rise and brown and baking soda balances the acidity.
Salt balances the sweetness.
Coconut sugar provides just the right kind of sweetness and a delicious caramelly note.
Flax seeds mixed with water combine to make a wonderful vegan egg replacement and help to bind all the ingredients together.
Plant-based milk (I used hazelnut this time) provide the moisture normally provided by eggs and milk.
Cinnamon and apples are simply a marriage made in heaven.
Lemon juice adds the perfect amount of acidity to balance the sweetness and helps to prevent the apples from browning.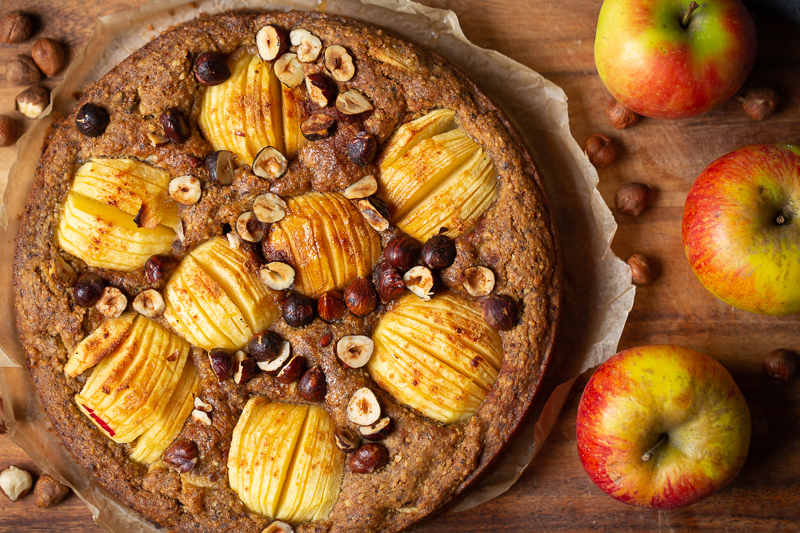 Gluten-free flour blend
In gluten-free baking I use a combination of different flours to achieve a pleasant consistency in baking. Mostly I make my own blends but this time I used a combination of a store bought flour blend (Werz). It is available in Austrian supermarkets (Denn's, DM). If your feeling more like making your own blend I suggest combining three different flours combined with one starch. I recommend rice flour, millet, buckwheat and either tapioca starch or arrowroot. The ratio I use is 50%brown rice flour, 25% millet or other flour, 20 % potato starch and 5 % tapioca starch.
Let's move on to the recipe now:
At this stage the blend can be used as an all-purpose flour. I like to add some oat flour and almond or other nut flour to my cake batters that I grind up myself to give the cake more texture and a moist crumb.
The whole process from start to finish is about an hour so perfect for a spontaneous baking session. I hope you enjoy it as much as I did and please feel free to let me know how it went. Only through your feedback can I improve the quality of my recipes. If you share it on Instagram don't forget to tag me #vegan__art. Thanks and have a lovely day!
Gluten-free Apple Hazelnut Cake
Ingredients:
3 baking apples, I used Topaz, other suitable varieties are Russet, Granny Smith or Boskoop.
the juice and zest of one lemon
120 ml light fruity extra virgin olive oil
1/2 teaspoon of vanilla powder
150 g gluten-free flour
120 g hazelnut flour, roasted, cooled and then ground
30 g oats, ground into a flour-like consistency
2 teaspoons baking powder
1/2 teaspoon baking soda
100 g coconut sugar + more for sprinkling on top
3/4 teaspoon fine sea salt
2 teaspoons of ground flax seeds mixed with 6 teaspoons of water
180 ml almond milk
2 tablespoons maple syrup
30 g hazelnuts whole and chopped to sprinkle on top
a few pinches of cinnamon
Instructions:
Line a round cake pan with a removable bottom with parchment paper and grease the sides with some oil. Preheat the oven to 180 °C.
Peel the apples and core them cutting them into quarters. Then chop up one of the apples finely and juice the lemon and place the apple aside with the juice and lemon zest.
With the remaining two apples cut thin incisions into the quartered apples without going all the way to the bottom so that they remain intact.
Set these aside and juice some more lemon juice over them to prevent them from browning.
In a large bowl whisk the flours, hazelnut flour, oat flour, baking powder, baking soda, vanilla powder and salt together.
In another bowl combine the almond milk, flax seed mixture and olive oil until thoroughly mixed.
Add the wet mixture to the dry mixture and mix until combined. Then fold in the diced apple into the batter.Pour into the prepared cake pan.
Arrange the quartered apples in a circle on top.
Garnish with chopped hazelnuts, cinnamon, sugar and a drizzle of olive oil and maple syrup.
Bake for 35 to 45 minutes or until a skewer inserted into the centre of the cake comes out clean.
Serve still warm with some vanilla ice cream if you wish or just plain.
Enjoy !