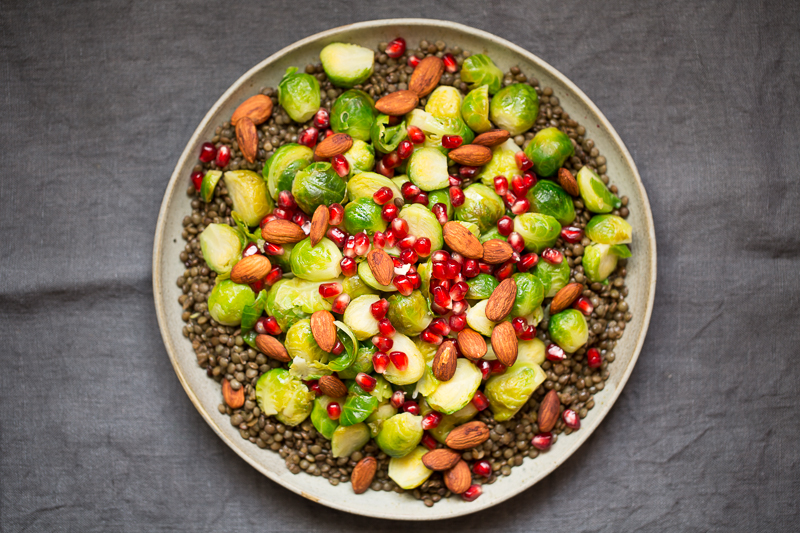 15 Jan

Brussel Sprout Lentil Salad with Tamari Roasted Almonds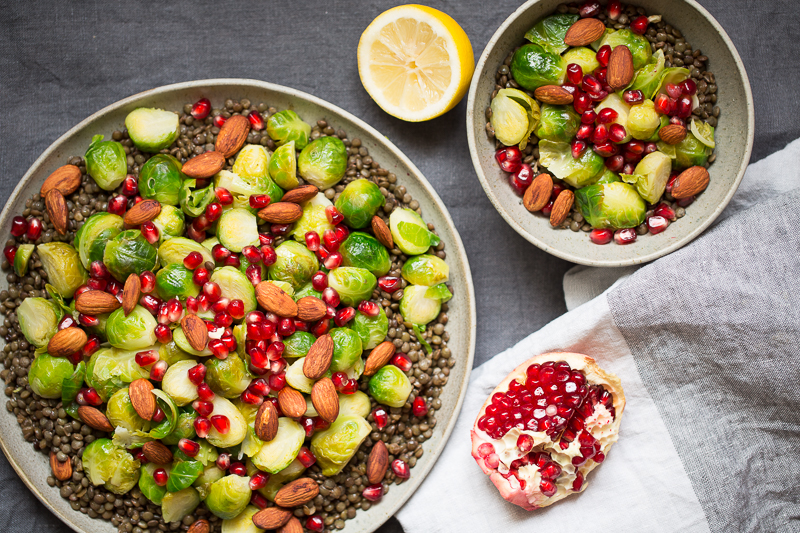 I'm dropping in today to share an easy weekday salad with you that can be thrown together pretty quickly once you've cooked the lentils. Brussel sprouts are a family favourite and when the first ones appear at the farmers market I usually celebrate their arrival. Winter can be pretty montonous when it comes to creating new things to eat and when I want to have a break from eating soups and stews I turn to recipes like these and usually combine them with whole grain rice or quinoa. This particular time I combined it with rice and a simple tahini dressing. The salad itself is paired with a simple lemon, olive oil dressing. If you want to bring more flavour into it go ahead and explore other dressings. The pomegranates arils and almonds add extra crunch and more nutrients which we all need when the days are short and the sun is scarce.
We've been pretty fortunate this year with the weather. It has been extraordinarily mild and even the sun comes out more often then expected. Usually at this time of the year I'm craving a warmer climate or simply going to the sauna to warm me from the inside. This year has been different. I've been craving long walks and also more physical acitivity which is also unusual for me in the winter. I usually prioritize exercise mostly in the spring and summer and go into a kind of hibernation once the temperature drops. Now its kind of different. Global warming is definitely evident in almost all areas of the globe and we as individuals don't have as much influence as we may like to but we are able to integrate lifestyle changes that have a positive impact on the environment. What I do appreciate in Europe in general is the lack of air conditioning in most areas. There is also a zero waste movement that is slowly starting to take root. There are more package free shops popping up where you can buy in bulk and bring your own containers. Last year I got really inspired to start my own zero waste journey after reading Bea Johnson's book Zero Waste Home
and reading the blogs Wasteland Rebel and Trash is for Tossers. These inspiring ladies make zero waste living look chic and achievable. As a mother of 3 without a car it can be very challenging to do any bulk shopping especially considering that we live on the 4th floor without an elevator. I don't want to complain here but I would be lying if I said it is easy. Practicality also plays an important role in deciding where and when I shop. What I am proud of is that whenever possible I purchase all my vegetables or most of my vegetables at the farmers market and of course using reusable bags. The dry components are an area that I have to still think about but I think I will explore more options as I go along. Who knows where I will be in my zero waste journey next year.
I would love to hear if you have any new aspirations for the new year or in general about your lifestyle or otherwise. I tend to get off to a good start at the beginning of the year but my motivation wanes as the months pass. I have been making an effort to stick to a self-care routine and that is also quite challenging but really rewarding in the end. Other than that, my other big goal for the year is to grow my blog and do more projects that are in alignment with my passions. That's right, you guessed it: cooking, baking, teaching, blogging. All in all I am happy with where things are going and if I compare myself to last year I can see that I've made a lot of progress in many areas. Now, off to this recipe and as always, I would be more than happy to hear from you. Let me know if you tried this recipe and how it turned out. Sending you sunny greetings from Vienna.
Brussel Sprout Lentil Salad with Tamari Roasted Almonds
Ingredients:
250 g Du Puy lentils, washed
500 g brussel sprouts
pomegranate arils
100 g almonds
2 teaspoons tamari
juice of 1 lemon
1 tablespoon apple cider vinegar
1 teaspoon maple syrup
1/2 teaspoon cinnamon
1 teaspoon cumin
extra virgin olive oil
salt & pepper to taste
Method:
Wash the lentils and put them in a pot with plenty of water. Bring them to a simmer and then reduce the temperature, cooking them for 20 minutes.
Drain the lentils and put them in a bowl to cool off.
Make the dressing by combining the olive oil with apple cider vinegar, half of the lemon juice, maple syrup,cinnamon, cumin, salt and pepper and stir until emulsified. Add the dressing to the lentils and mix it in.
Trim the brussel sprouts and cut them in half and put them in a pot and just barely cover them with water. Add two pinches of salt and a little olive oil and bring to a boil , then reduce the temperature and cook for another 5 minutes. Drain them and set them aside squeezing some lemon juice on them so that they don't brown.
Roast the almonds by combining them with tamari and place them in a oven preheated to 160 °C and roast for 20 minutes. Remove from the oven and let cool.
Combine the lentils with the brussel sprouts, pomegranate arils and roasted almonds and taste and adjust the seasoning. Serve warm or cooled with a grain of choice or simply alone.