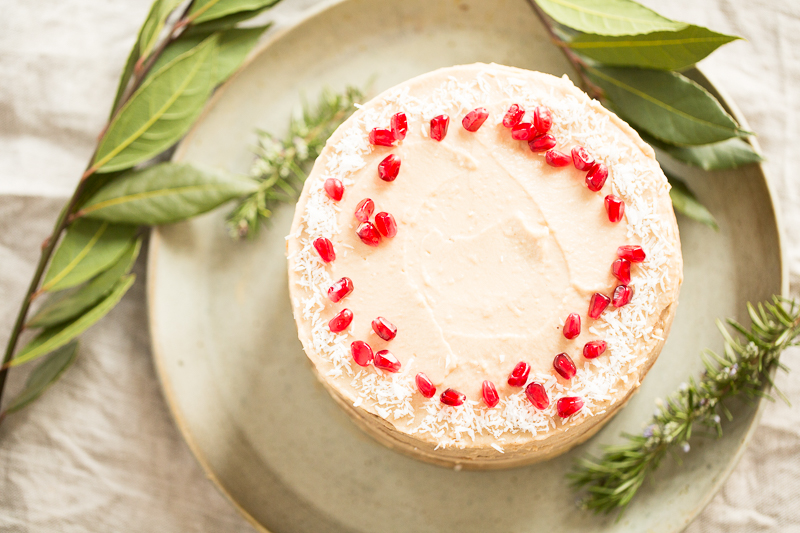 19 Feb

Vegan Hazelnut Mocca Torte

While I was busy trying to make changes to my blog this past month I completely neglected recipe development and testing and in turn have been focusing on other aspects of blogging like styling. Not surprisingly shopping for props can be quite costly so know I am considering just borrowing props from some ceramicists instead of buying. I do love beautiful dishes but I don't know where I could keep them all and I'm sure less is more in the end. The previous month was a birthday month and since I neglected to post a birthday cake back in January I present you today with one of my creations which I baked for my husband on his birthday. It has a few components which should be made a day in advance but once you make everything it is easy to put together and is very delicious.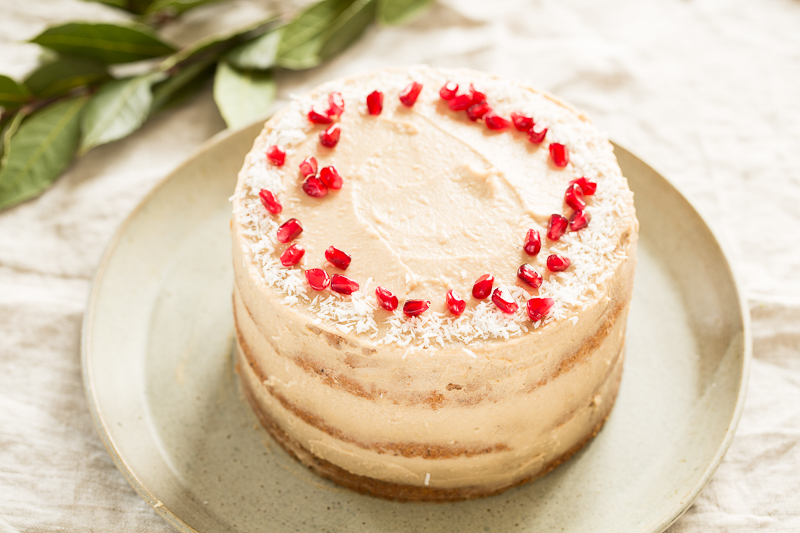 The plate that I used is from an Austrian ceramicist named Barbara Wihann who manages to create ceramics that are not only beautiful but natural and inspiring to work with. I took a course with her once and was amazed at how meditative and relaxing it is to work clay with your hands. I swore that I would continue and if life weren't so full-filling I would probably creating my own works sooner. Crafting things with my hands are one of the most comforting and rewarding things that I can imagine doing. Seeing the body as a vessel for so many things or as an instrument to express oneself. When I was studying singing much of my time was spent just trying to produce sounds with my body and focusing on specific areas of the body. The kind of awareness required to sing freely and without restraint was one of the things I was always attempting to achieve. I guess I am still searching for the same things today: a sense of wholeness and a total immersion into what I am doing and what I'm creating. My aspirations are forever changing but I think essentially all creative endeavors lead to the same place. I'm always amazed when I realize that learning anything even when I'm a total beginner is related and that I can apply the knowledge from one area into another. Singing is a really internal process although it seems very extroverted but cooking and baking have the same qualities and when I create a dish for my family or anyone else it is a small performance. That's where birthday cakes come in. They are so festive and pretty and when they taste delicious and are not overly saturated with unhealthy ingredients they leave me feeling light and satisfied. Creating cakes are something that I've always enjoyed doing and I like to explore new flavour combinations.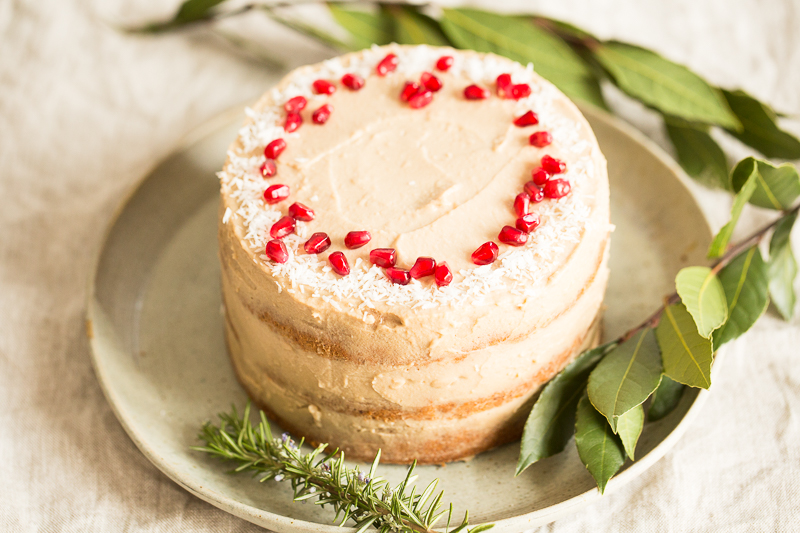 Not so long ago I made a walnut, cardamom, coffee cake and it was really wonderful and it got me thinking about the nut coffee combination. After looking for some inspiration I stumbled across a recipe from Hot for Food on You Tube and I knew that I had to recreate it giving it a healthy spin. My version is entirely refined sugar free and the frosting is made with coconut milk and agar agar as a thickening agent. The filling is a coffee date caramel that I also thickened with the help of arrowroot powder. As an egg replacer I used aquafaba for a fluffy and light cake base. Mostly I never find recipes for cakes that aren't either loaded with cups upon cups of powdered sugar or are not raw cakes with 4 cups of nuts a la raw cakes. Don't get me wrong, every cake has its place and everyones taste is different but I have to say mostly I find most cakes too sweet or simply too heavy. This torte is not gluten-free so if you want to try a gluten-free version please let me know how it went. I still have to master my gluten-free baking skills.
So, let's get baking and as usual if you feel like sharing or connecting with me,please let me know how it goes. Best of luck!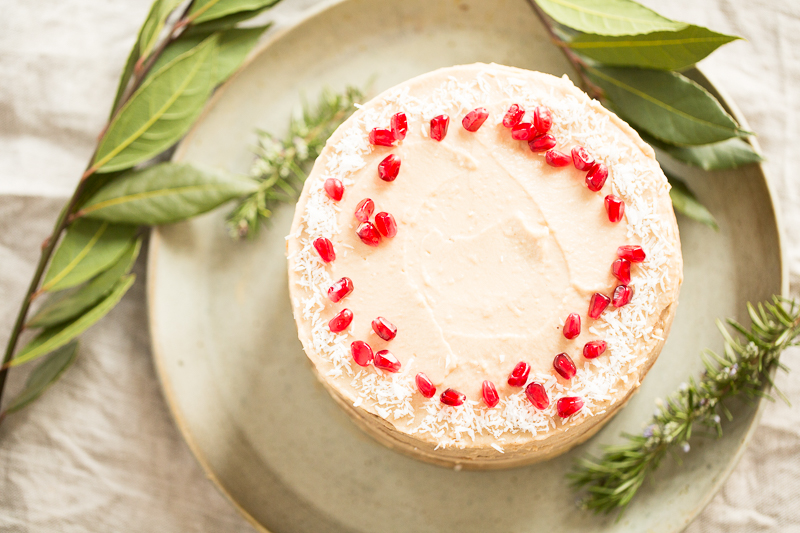 Vegan Hazelnut Mocca Torte
Makes one tall cake with three 6 inch /18 cm cake or two layer 8 inch/20 cm cake
Equipment: 3 6inch/18 cm or 2 8 inch/ 20 cm cake pans
cake ingredients 
200 g ground hazelnut meal/flour (roast 2 cups whole hazelnuts total)
aquafaba (the liquid from 1 can of chickpeas)
240 g whole spelt flour
2 tsp baking powder
1 tsp baking soda
2 tablespoons ground flax seeds
240 ml almond mik or other plant based milk
360 ml maple syrup
1 tsp apple cider vinegar
1 tsp vanilla extract
120 ml  melted extra virgin coconut oil
mocca caramel filling:
4 tbsp coconut oil
120 ml strong coffee, make in advance
8 medjoul dates, pitted and soaked in hot water
1 tsp vanilla extract
1 tsp arroworoot
mocha coconut frosting:
1 can coconut milk
120 ml strong coffee, prepare the coffee in advance
2 teaspoons agar powder
1/2 tsp salt
1 tbsp arrowroot powder
60 ml maple syrup
1 tsp vanilla extract
2 tablespoons coconut oil
Make the mocha frosting:
Add coconut milk, maple syrup, coffee, agar powder and salt to a medium, heavy-bottomed pot and whisk well.
Place over high heat and bring to a boil, whisking continuously.
In a little bowl combine the arrowroot with 2 tablespoons of water and stir until combined.
Add the arrowroot slurry while whisking and wait until like bubbles form on the surface and by this time it should have thickened considerably.
Remove from the heat and stir in the vanilla and coconut oil. To test whether the frosting will set properly, place a tablespoon into a little cup or container and place in the freezer for 5 minutes. If it comes out firm, then it is correct. If not, then wait until it cools of completely and then add an additional teaspoon of agar powder and resume as previously.
Let cool completely before placing the mixture in the fridge. It will take 1 1/2 to 2 hours for the frosting to set.
Cut the frosting into cubes and place in a food processor and blend on high until smooth. It will resemble a pudding at this stage. Transfer to a container and refrigerate preferably overnight or until you are ready to frost the cake.
Make the cake:
1.Preheat the oven to 180 °C. Oil and line three 18 cm cake pans with parchment paper circles at the bottom of each pan; set aside.
2. Place the hazelnuts in the oven and toast them for 10 minutes. Remove from the oven and rub them with a towel to remove the skins. Grind them in a food processor until they are just ground, maximum 10 seconds.
3. Place the ground hazelnuts in a large bowl and sift in the 2 cups of spelt flour, baking powder, baking soda. Stir with a whisk to combine and set aside.
4. Stir the flax seeds with 4 tablespoons of water in a small bowl.
5. Combine all the wet ingredients besides the aquafaba in a separate bowl and stir until combined. Add the flax seed mixture and stir in. Add the flour mixture to the wet ingredients and mix until completely combined.
6. In a clean bowl or food processor whip the aquafaba until it forms stiff peaks, from 5-15 minutes depending on your appliance. Fold the aquafaba gently into the cake batter and divide the cake batter evenly among the three cake pans.
7. Bake for 20-25 minutes or until the cake pulls away from the sides and a toothpick inserted in the middle comes out clean.
8. Remove from the oven and cool on wire racks. Refrigerate overnight.
Make the filling:
Cover the dates with hot water and soak for 10 minutes.
Add all the ingredients for the filling into a food processor and mix until smooth.
Transfer to a small pot and bring to a boil stirring continuously. When the mixture is smooth and thickened remove from the heat and let it cool completely.
Assemble the cake:
Run a butter knife around the edge of one cake pan and invert onto a cake stand or plate. Remove parchment paper and spread about 1/2 of the filling onto the first layer. Invert the second layer onto the first layer and spread the remaining filling onto the second layer. Invert the third layer and spread a generous amount of the frosting onto the top of the cake and using a spatula spread the frosting over the edges and down the bottom of the cake. Let cool for 10-20 minutes in the fridge and then spread another layer until the frosting is all over the cake. You will have leftovers. Depending on how much frosting you like you can adjust to your taste.
Decorate with hazelnuts or whatever you like. I had pomegranate arils and fresh bay leaves and fresh rosemary.
Share with loved ones!