14 May

Raw Blueberry Lemon Swirl Cake (Vegan & Glutenfree)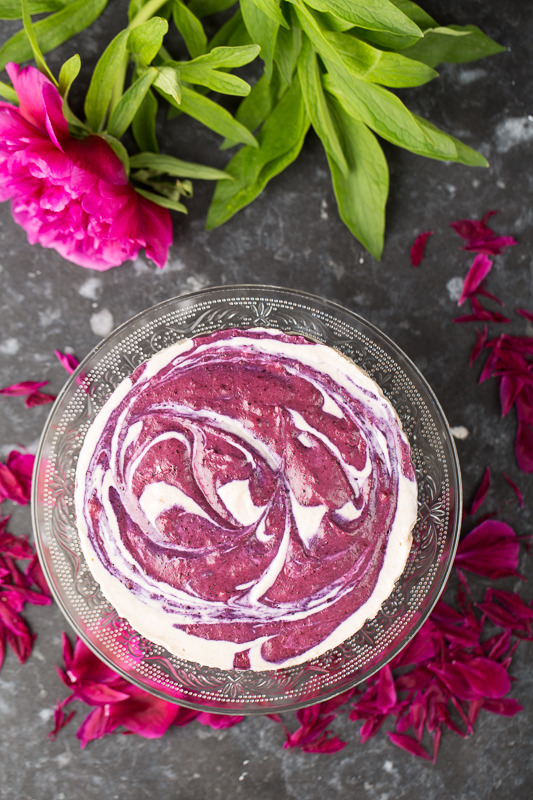 Hello my wonderful friends! Today I want to share a raw vegan cheesecake with you that requires very few healthy ingredients and can be made without turning on the oven. I've shared a similar recipe here. I normally prefer baking things in the oven because I enjoy the smell of baking just as much as eating it. Raw desserts are incredibly versatile and they require little ingredients with amazing results so on occasion I enjoy a little bit of variation. I also like to incorporate no-bake techniques to regular desserts but mostly I don't eat them that often because I find the amount of nuts used usually too high.All in all it is a simple and very satisfying technique and after a few hours you have a delicious and indulgent cheesecake. You won't miss the cheese or eggs or sugar at all. It is sweetened with dates and maple syrup keeping it a rather healthy dessert.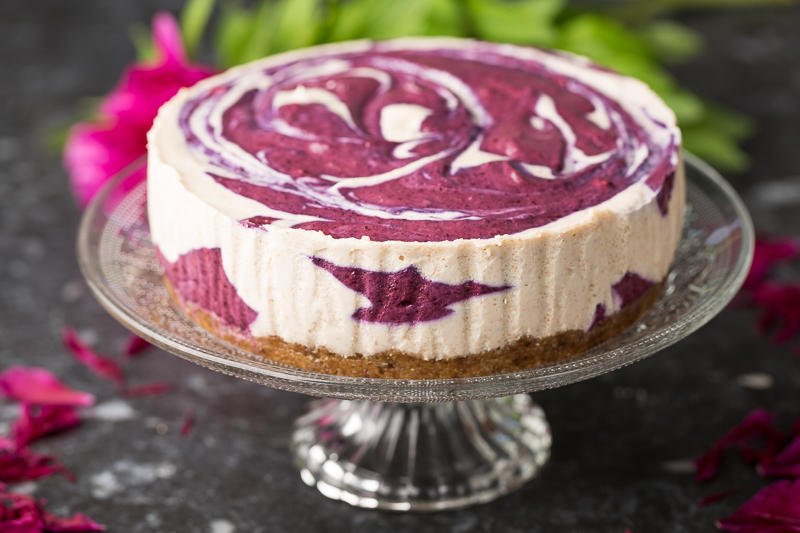 Sometimes I have also avoided making raw cakes because they are also quite expensive to produce. Nuts and organic ones, like I like to use are usually even more expensive. So, I treat myself to raw desserts more rarely. Recently I thought about what I could substitute the cashew for if I wanted to make it a little more affordable. I stumbled on chia seeds. Chia seeds can be ground into a fine powder and they also have thickening properties so I thought, why not try it in a raw cake. As it turns out it works. Its important to use the white ones because the grey ones would probably change the color of the cashew. Its nice to see a strong contrast with the blue blueberries that appear more purple when blended with the cashew cream. To create the swirl you have to alternate putting the blueberry cream and white cashew cream in dollops until you use it all up than you make a pattern by dragging a knife through the cream until you achieve the desired effect. It is such a stunning effect and is so easy to achieve. I promise you you are going to feel like the ultimate cake master.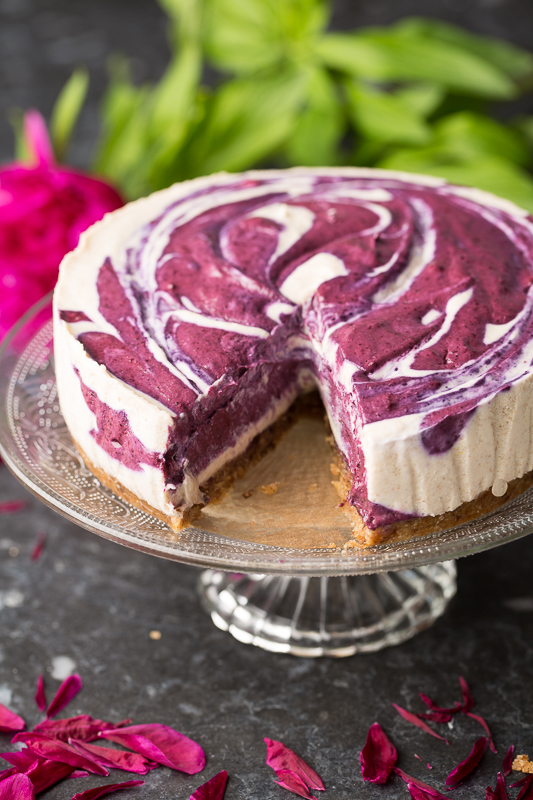 Speaking of cake master, I am going to be baking a wedding cake very soon for a lovely couple who will be marrying at the end of May. I have made so many cakes recently but a cake for a larger crowd is much different and I have to make sure that I plan things well. I was very pleased that I can pretty much do what I please and as far as the decoration is concerned and since I have no experience with fondant it will be a simple naked cake decorated with flowers and berries. I have always loved naked cakes and have made smaller versions before but I have to do some trail runs before to make sure everything holds together. I look forward to it a lot and I am curious about the results. I always make a few test runs so that I am sure that I'm pleased with the taste. I will probably share it on the blog if I have a chance and Gerhard is able to photograph. I'll keep you posted. Well, since we are all here to do some baking or in this case, no baking, let's move on to the recipe.
Please leave a comment below, if you feel inclined to and let me know how it goes if you give it a try. Also tag me on Instagram #apeyrernavijalic or #veganart
Raw Blueberry Lemon Swirl Cheesecake 
Serves 6-10
1 16 or 18 cm cake pan lined with parchment paper
Base:
120 g walnuts
100 g pitted medjoul dates, about 5
a pinch of fine sea salt
Filling:
1 1/2 cups or 180 g cashews, soaked for 2 hours or overnight
100 ml maple syrup
80 ml coconut oil
2 Tbsp ground white chia seeds
juice and zest of 2 lemons
120 g blueberries, fresh or frozen
Method:
For the base, line a  18 cm round springform cake pan with parchment aper. Place the nuts in a high-powered food processor and blend on high until coarsely ground. Then blend the remaining ingredients until well mixed. Press the mixture into the bottom of the springform pan. I like to use some plastic wrap to prevent my hands from sticking.
For the filling, rinse the soaked cashews in cold water and place them in your blender along with the maple syrup, coconut oil, chia seeds and lemon on high for about 2 minutes or until entirely smooth. Transfer half of the cashew cream to one bowl leaving the other half in the blender.
Add the blueberries to the remaining cashew cream and blend together for another minute or until completely smooth. Transfer the blueberry mixture to another bowl.
Spoon equal amount of dollops of the lemon mixture and blueberry mixture alternating randomly until you have used up the entire filling. Wiggle the pan to distribute the filling. Swirl a knife through the filling to create a pattern on the surface.
Place the pan in the freezer for 3-4 hours until firm or in the fridge overnight. When ready to serve, remove the cake from the springform pan and serve immediately. If you leave the cake outside it will melt. Treat it like an ice cream cake and eat it cold.