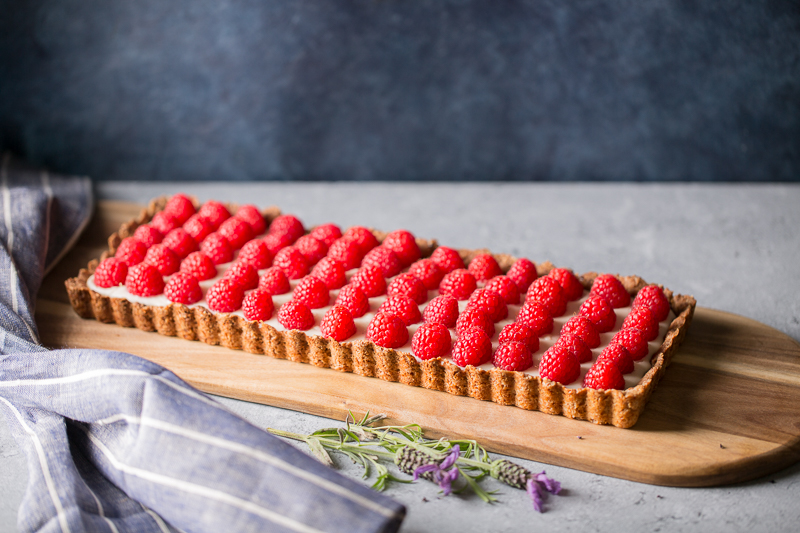 30 Apr

Raspberry, Coconut Cream and Chocolate Tart (Vegan & Glutenfree)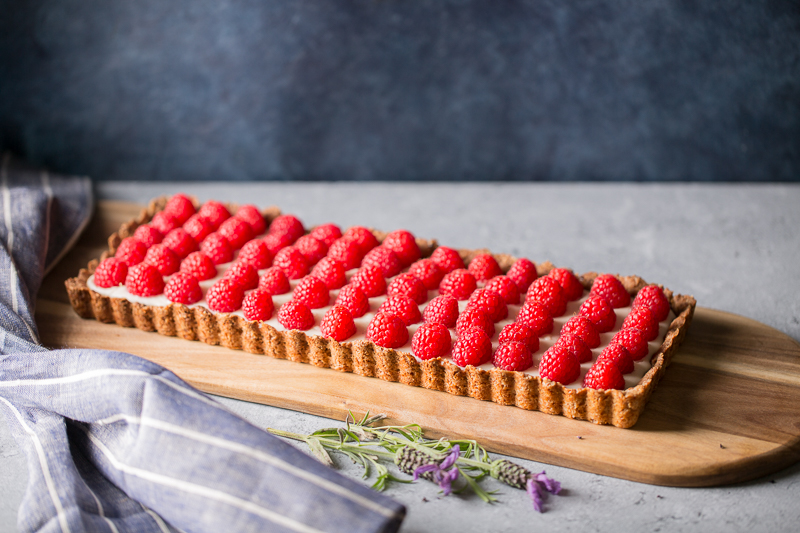 What a week it has been and there is still more to come. Slowly my preparations are taking shape and I am feeling more at ease and overall more relaxed. I have already mentioned in previous posts about my plans to open a cake business and the upcoming Pop Up Market will be an opportunity for me to present my baked goods to a larger audience. I had to develop a concept that I would be happy to share with a larger audience and that I think has the potential of growing into something more fruitful. It is a long process but I am excited to tackle new challenges as they come. Lately I've been very involved creating flyers and business cards with the talented graphic designer Nini from Detailors Studio . I always wanted a logo in watercolor and hand lettering and that is exactly her specialty. I am so happy with the results and soon enough I'll share them with you.
Many of my assumptions regarding who will be potential clients of mine or whether there is an adequate target group are uncertain. The only thing that I am certain about is what I really love doing and that is exactly what I'm doing now. Mostly  I'm taking things one step at a time. What stands out in the end is that people cannot be categorized and even if you think you know everything about a potential customer or anyone for that matter is that so many other factors play a role. In my own case I tend to visit cafes in my local neighbourhood and mostly out of convenience and not because I love their products. When I want a specific dessert or dish I always make it myself. Another thing that I have realized lately is that if I want to appeal to a larger audience I have to simply make things that are irresistible for all tastes whether they have intolerances, allergies or eat everything. Baking glutenfree has become an additional challenge for me but I really like exploring the different flours that can be used and overall the flavors are more interesting and full of character. I never was one to use all-purpose flour but baking with glutenfree blends is quite different. I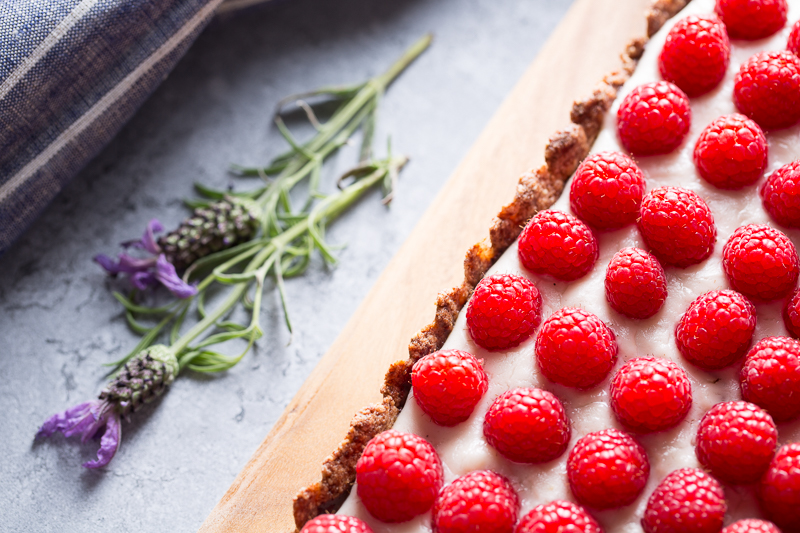 Today's recipe is from a wonderful cookbook that I discovered in the library when I was searching for glutenfree baking inspiration. The book is called Alternative Baker by Allana Taylor-Tobin. She is a classically trained pastry chef and founder of the blog The Bojon Gourmet. The book is divided into chapters like Dessert for Breakfast, Cake, Pie, Tarts and much more. Her recipes are really well tested and easy to follow and I especially love her flavour combinations such as grapefruit and elderflower tart or double chocolate bergamot cookies. The book is not vegan but there are some vegan recipes and the one I will share with you today is one of the vegan recipes. Overall I look forward to experimenting and veganizing her recipes. I love her use of fruits in recipes and look forward to baking more dishes from this book. Overall I think it is a wonderful reference for bakers looking to expand their repertoire to include more glutenfree recipes. At first you may have to get used to buying different kinds of flours but that is all. Once you have created your own glutenfree blend you can keep it stored like any flour and just start baking. The sweet almond vanilla pastry is a winner and I will use it in my fruit tarts in the future. She also doesn't use any strange gums in her recipes which I like. I do encourage you to order her book. Its a real gem and I don't say that about many cookbooks and I have many.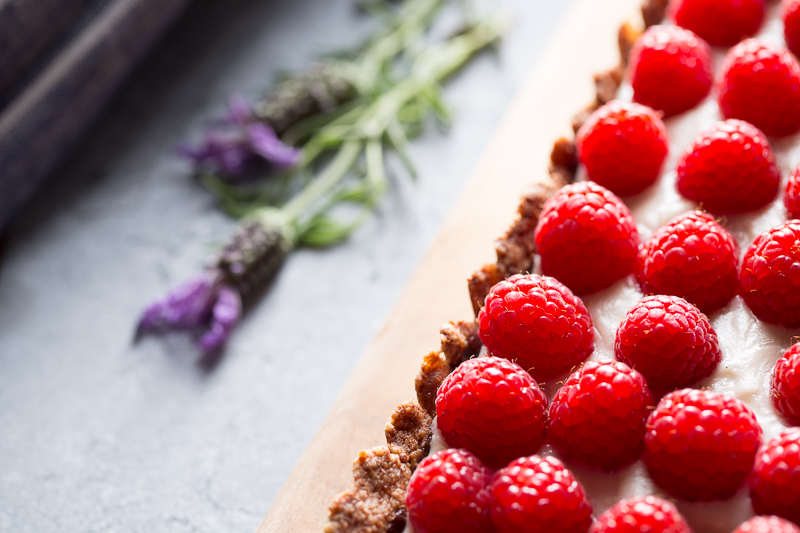 So let's move on to the recipe. I used a long rectangular tart form but I am sure it can be made in a 9-inch(23-cm) round tart tin.
Make sure to grease your tart tin well because the crust likes to stick to the tin which makes for difficult cutting.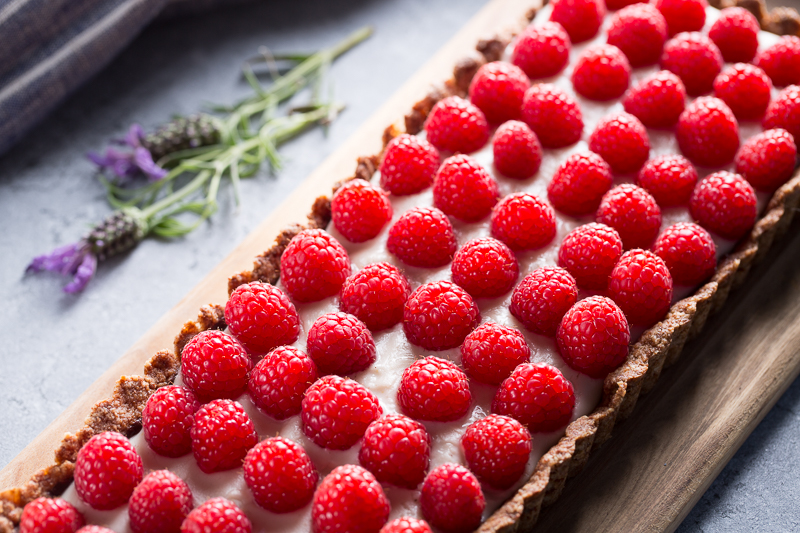 Raspberry Coconut Cream and Chocolate Tart
from The Alternative Baker from Allana Taylor-Tobin
CRUST:
Vegetable oil spray or coconut oil, for the tin
60 g almond flour, I used whole ground almonds
50 g sweet white rice flour, I used white rice flour
40 g coconut flour
45 g coconut sugar
1/4 tsp fine sea salt
80 g coconut oil (at cool room temperature or lightly chilled)
1 tsp vanilla extract
2 Tbsp or 30 ml cold water
55 g bittersweet chocolate (I used 85%)
FILLING:
1 400 ml can full-fat coconut milk
1/2 vanilla bean, split lengthwise and scraped
35 g coconut sugar
18 g or 4 Tbsp cornstarch
pinch of fine sea salt
340 g fresh raspberries or enough to cover the top of the tart in a single layer
METHOD:
To make the crust position a rack in the center of the oven and preheat to 175 °C. Lightly spray a tart pan with a removable bottom with cooking spray or brush with coconut oil.
In the bowl of a stand mixer fitted with a paddle attachment, combine the almond, rice and coconut flours with the sugar and salt. Scatter the coconut oil in clumps over the top and drizzle with the vanilla extract. Beat on medium-low speed until the coconut oil is evenly distributed. With the mixer running, slowly drizzle the water, mixing until the dough comes together in large clumps. Dump the crumbly dough into the prepared tart pan and press the dough evenly into the pan, starting with the side and moving to the bottom, keeping the edges square. Prick the bottom of the crust all over with a fork and freeze until firm, 15-30 minutes.
Place the tart pan on a rimmed baking sheet and bake until golden all over, 20-25 minutes. Remove the crust from the oven and scatter the broken chocolate onto the bottom of the crust, spreading it with a spoon to cover the whole surface of the crust. Let cool to room temperature, then chill until the chocolate is set, 10-20 minutes.
To make the filling, combine the coconut milk and vanilla pod and scrapings in a medium-sized, heavy-bottomed saucepan. Heat over medium-heat, stirring occasionally, until the milk is hot and steamy. Remove from the heat, cover and let steep for 10 minutes or up to an hour to infuse with the vanilla.
Meanwhile whisk together the sugar, cornstarch and salt in a small bowl.When the coconut has steeped, whisk a few tablespoons of the milk into the cornstarch to make a slurry, then whisk the slurry into the coconut milk. Cook the pudding over medium-heat, whisking constantly and making sure to scrape the bottom and sides of the pot, until it comes to a low boil. Still stirring, boil for 1-2 minutes; it should be the consistency of yogurt. Immediately pour the coconut pudding into the chocolate-lined tart shell, spreading it evenly and taking care not to disturb the chocolate. Chill until set, 2 hours.
When ready to serve, release the sides from the pan by pushing the tart bottom upward, and slide the tart onto a large cutting board. Top with the raspberries.Cut into pieces and serve.