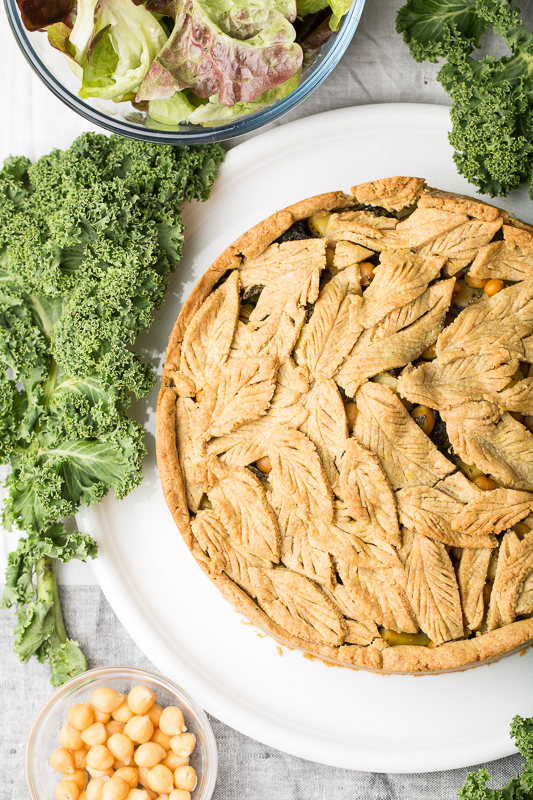 09 Jan

Potato Poppyseed Kale Pie with Hot Water Crust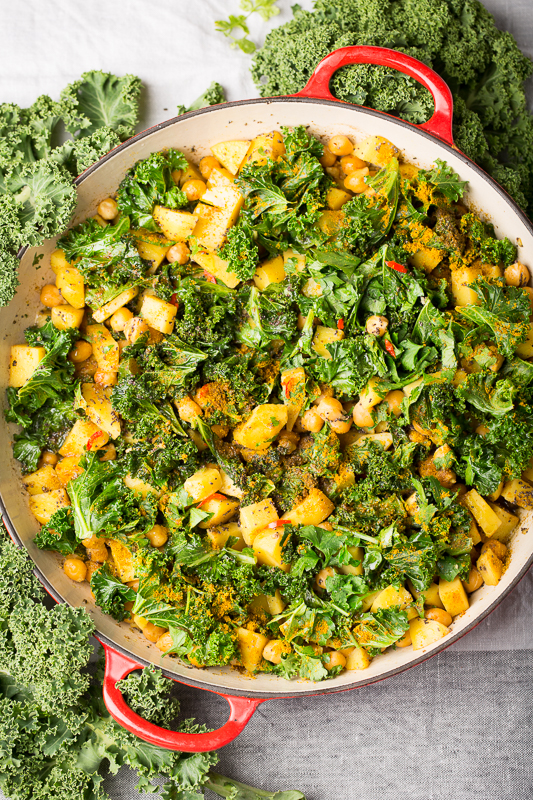 This post was intended for the holiday season and as usual life took its own course and I didn't succeed in posting it on time. In any case, I think it is never to late to celebrate and after all we have just welcomed a new year and I guess that is reason enough to celebrate. So, Happy New Year everyone!!!
Its taken me quite a long time to start writing the first sentences here. It reminds me of stepping out onto a stage and seeing a huge audience in front of me waiting for me to open my mouth. This time the audience is one that I have imagined in my own head and I know there is no one out there except for the odd reader here or there or a load of web traffic sites that are trying to get my attention and test their 30 day offers for getting more traffic. Obviously there is still a lot I have to learn but I certainly won't approach it that way. I want good old-fashioned readers who are interested in my content and who are interested in sharing a genuine conversation about all things plant-based and much more. Basically I'm doing this for myself and because it feels so good to share things that are a part of my life and that generate a lot of positive vibes with my family and friends. Food is something to be shared and nurturing on many levels is probably the most meaningful thing I've done in my life. Sharing food with my loved ones brings me such joy and in turn I am poured over with love and affection.
The last month I have been immersed in all kinds of activities of which blogging has been the least frequent although I must say that internally I've been very active. The blog is on my mind almost incessantly. Dishes that I could post and things I could improve. I still haven't figured out how to include my instagram roll on my blog and I'm just not tech savvy enough to really enjoy tackling such obstacles. If anything, this process has taught me a lot about self-acceptance and how to be kinder to myself. This has been a year of learning and self-reflection and I've learned a whole lot thanks to podcasts such as The Timm Ferriss Show and The Lively Show as well as a Self Acceptance Summit over at Sounds True. In particular the talks with Martha Beck, Tara Brach and Glennon Doyle left me searching for more answers and going deeper into my own journey of self-acceptance. What has come out of it is a deeper respect for my own inner rythmns and an honouring of my own space and self-care practices. It is enough just to stop following the urge to react to those inner voices that tell me I need to be there for others doing whatever. Being able to stop in my tracks and say. "Hey, I need this time and space for myself and I will take it consciously." This has lead to me increasing my "me" time and maybe not cooking so elaborately as usual.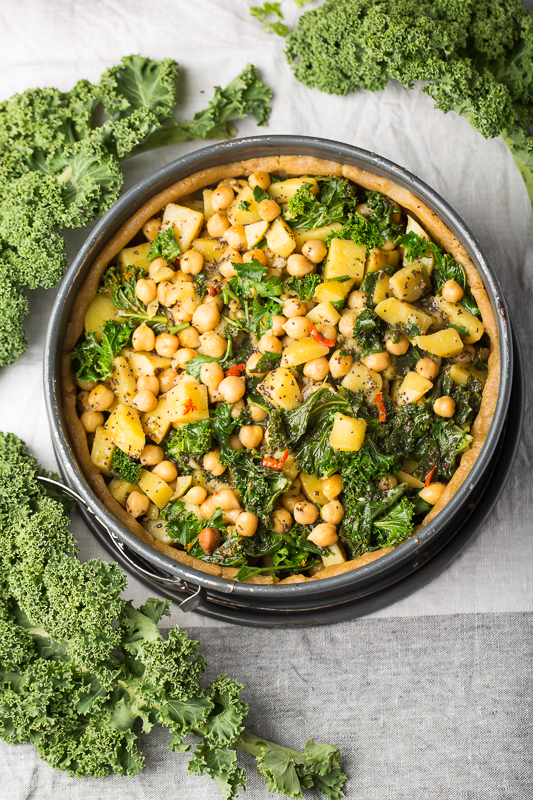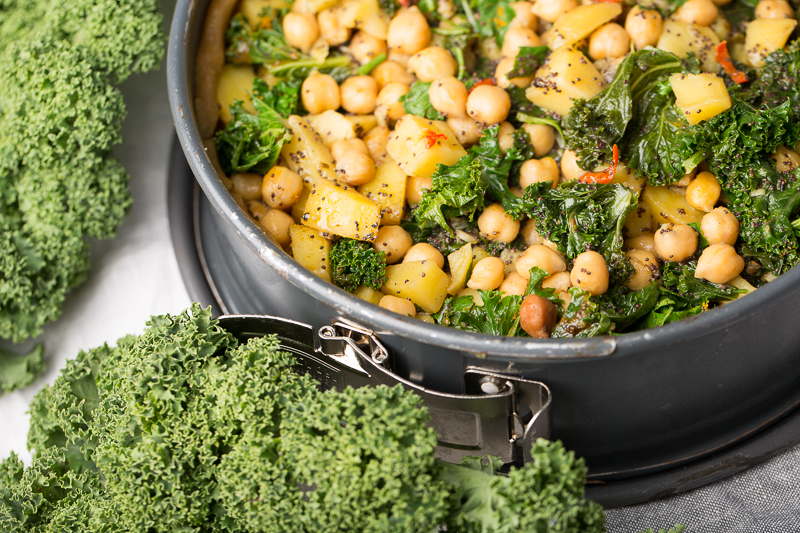 This process has also changed the way I cook altogether. The moments when I feel overwhelmed with too many errands I know now that I can't cook anything elaborate and I also know that it won't nourish me in the way I would like it to. Simply the act of cooking can actually be very meditative and I never really enjoy it if I am rushed or have a kind of a deadline. The compromise is to save the more elaborate dishes for special occasions like this particular dish. It has become a kind of tradition with me to cook or bake a showstopper for Christmas or for another special occasion. The Christmas holidays are over so I guess this could be baked for any festive dinner or simply for a Sunday meal. Either way you will be rewarded with a celebratory dish to feel very proud of. The inspiration came from The Great British Bakeoff and in particular by Pie Week that I decided to give my pastry skills a go. This was inspired by Kate's hot water crust with a curried potato filling. She had a lovely mango topping which looked beautiful and I was considering making a chutney to go with it but in the end I decided to do a pretty intricate leaf topping. It looks harder than it is and probably the most challenging part is getting the pie out of the mold and not breaking it at the same time. For this reason you don't see many photos of the cut pie because when I cut it into it it kind of broke on one side. I don't freak out anymore about such mishaps. If I was on the Great British Bakeoff I would probably have a heart attack. I don't think I would function in such a stressful environment. So, I emphasize having a carefree and relaxed approach to cooking anything. Timing is very important, so when doing anything more elaborate I always make sure I have enough time and that I can enjoy the process. Cooking for me is an act of love and sharing and if I am stressed my food doesn't taste good.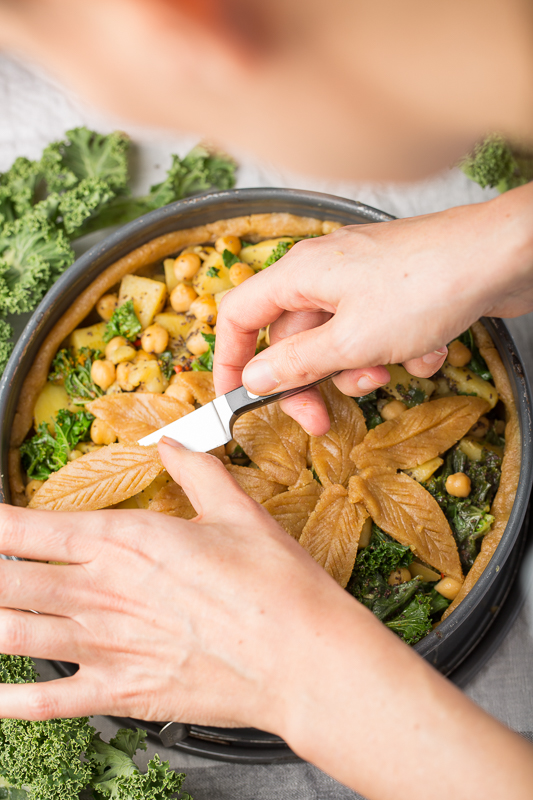 I looked for different hot water crust recipes on the internet and most of them had a combination of lard and butter in the crust, which is not very vegan of course but after a few attempts I was able to replicate a hot water crust that not only tastes delicious but holds up well to the filling and stays firm. I used a combination of coconut oil and olive oil and the solidifying properties in coconut oil keep the dough crisp and firm. So,  without further ado, I give you "The Hot Water Crust Pie"
Hot Water Potato Kale Poppyseed Pie
Crust:
360 g wholegrain spelt flour
3/4 teaspoon salt
1 teaspoon turmeric powder
80 ml water
125 ml coconut oil
125 ml olive oil
Filling:
2 

tablespoons olive oil

2 onion, chopped

1 fresh chili, seeds removed and finely chopped

1 

tablespoon curry powder, I used Madras curry

1 

tablespoon cumin

2 

teaspoons coriander

1 

teaspoon turmeric

1/2 

teaspoon cayenne pepper

1 

teaspoon cinnamon

1/2 

teaspoon ginger

6 

cups peeled and cubed potatoes

50 g poppy seeds

1 can of drained and washed chickpeas or homemade 

1 l  vegetable broth

Salt and freshly ground black pepper

1 

large bunch curly kale, roughly torn
Method:
Start by making the filling. Once the filling is done, while it cools off you can preheat the oven and make the crust.
In a large pan heat the olive oil and saute the onions and chili until the onions are translucent.
Add the spices along with potatoes, chickpeas and poppy seeds and then continue cooking for a few minutes until everything is fragrant.
Add the vegetable broth and cook for 20-25 minutes until everything is tender. 5 minutes before the end add the kale to the mixture and finish it off by tasting and seasoning with salt, pepper or additional curry powder.
Set the filling aside to cool while you make the crust.
Preheat the oven to 180 °C. Line a 24 cm(9 inch) cake pan with parchment paper or grease it generously with some oil.
In a small pan combine the water, coconut oil and olive oil and bring it just to a boil.
In a large bowl combine the flour with the salt and turmeric and pour the hot water oil mixture over it and with a wooden spoon or fork stir everything until a shaggy dough forms.
Immediately form the dough into a ball and divide it into two pieces, one 2/3 and one 1/3 in size. Roll the larger ball in between two pieces of parchment paper and line the cake pan with the dough. If it breaks just patch it with your hands working form the centre upwards. Once you have come to your desired height you can put the filling on the inside.
Roll the other piece of dough and cut out leaf shapes with a small knife layering it on the top. I used a small paring knife to do this. Alternatively you can use cookie cutters using whatever shape you like or a simple top making a slash in the top to let out steam. For the covered top you will require more dough, however.
Make sure to crimp the edges together from the top and bottom so that the pie is sealed.
Bake the pie until the crust is golden brown, 30-40 minutes. Cool at least 15 minutes before unmolding, slicing, and serving.
Enjoy!