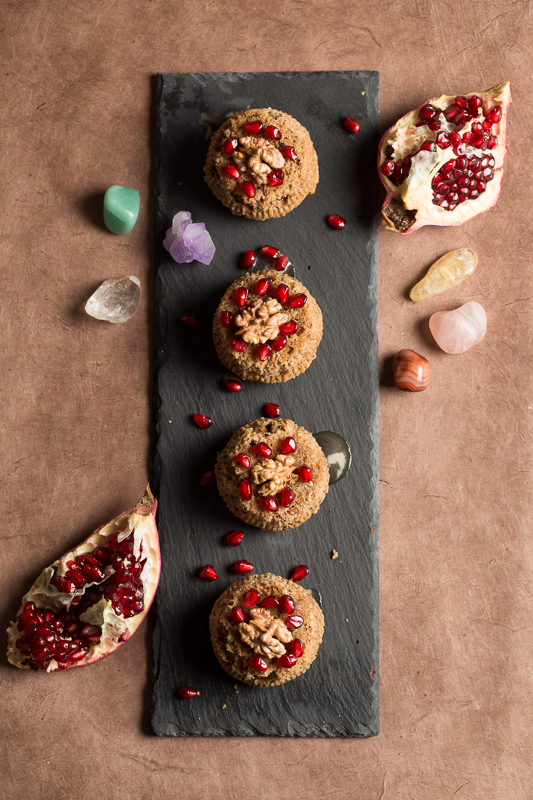 01 Oct

Vegan Coffee Cardamom Walnut Cakes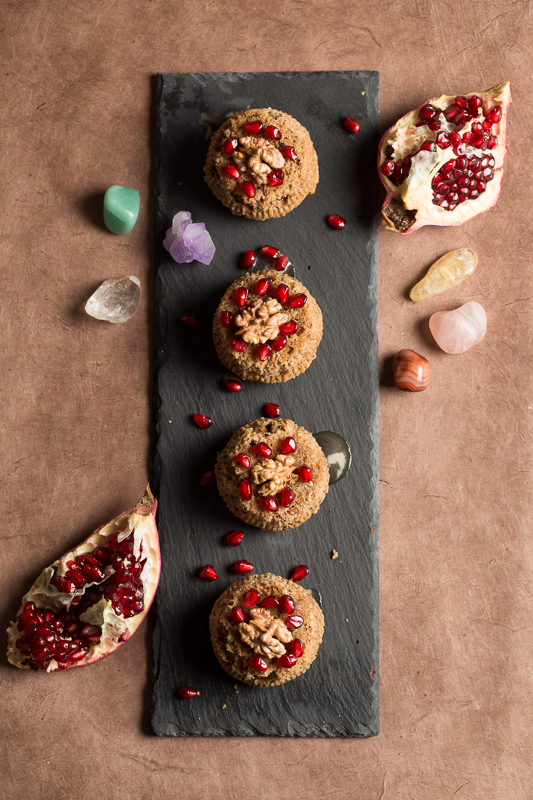 A whole month has rolled by and I am back on my blogging track and hoping to come up with new recipes for you and post more frequently. Making excuses is a pretty lame thing, I know so I won't even bother to explain what has been going on in life. Let's just say I will inform you what has been going on instead of being unkind to myself about not blogging. I do love doing it so I in the end miss it the most.  Besides blogging I do actually have a day job and that has been consuming a lot of my time along with getting the kids ready for the new school year. On top of all that I try to teach cooking classes and organise new ones. If all goes well I will be starting a new series of courses for children as well as adults. The topics will range from basics and stocking a vegan pantry to fermenting, baking bread and patisserie, which holds a special place in my heart. When opportunities arise, I will also sell some baked goods and so I can safely say, I have enough things to do and I certainly cannot complain that I have a boring life. As I am writing here, I have my cat sitting on my lap keeping me company. Its very cute but its a little distracting. When I take a longer break I find it difficult to find my groove and I have been playing with the idea of turning this space into a baking blog. I know that its probably restricting but sometimes I have the feeling that I'm a little too all over the place and I do have plenty ideas for baking in general. These cakes for example are inspired by my favorite baking show, The Great British Bakeoff and I tried this already a few times. The flavour combo is delightful and oh so delicious. It is a classic English teatime kind of cake and is on the menu of a lot of museum cafes. Adding cardamom to it gives it a special touch and elevates it to something exotic and almost Christmas-like.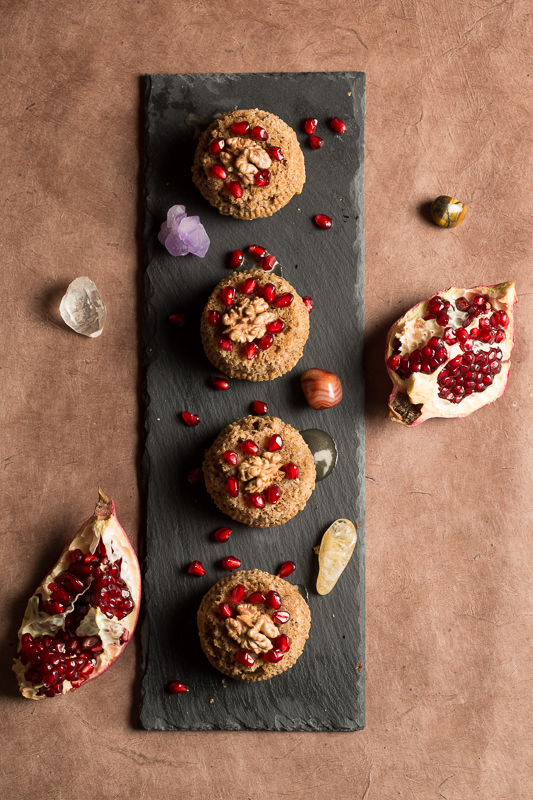 Finding my own style in baking and otherwise has proved challenging for me. The traditional baking that involves a lot of sugar, butter and meringues is foreign to me and yet a part of me is attracted to the feeling of comfort and texture that they provide. I still prefer wholesome flavours and mainly healthy ingredients and of course I like giving everything I do my own special twist. So I can't say that I entirely reject any style of baking maybe with the exception of fondant. Those massive heaps of sugar only for the sake of decorating a cake seem to me to be simply a waste. My motto in the end is, "If you can't eat it, then stay away from it!" Here I have attempted to recreate a classic recipe with a healthier twist and flavours that really stand out. These cakes can be served as muffins without the icing sugar if you are serving them for children, however there are only 2 tablespoons of coffee, so I think they are safe for children to eat.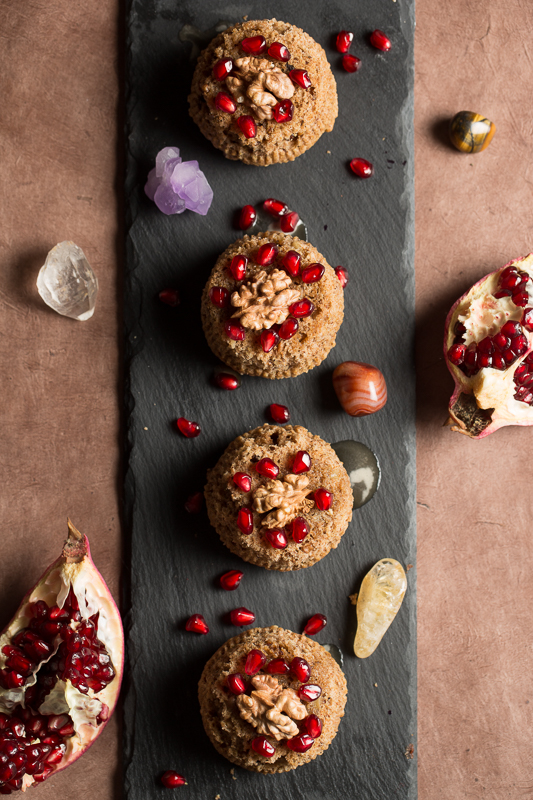 To end on an entirely different note and so that you don't think I've gone crazy, you may notice some changes lately on the sight. It has to do with my changing identity and also the message that I'm trying to refine. I know it will be a process and that this space is a kind of playground for me to explore new ideas and things that I have been exploring and finding helpful to me. Please bear with me and I hope you will stick around for the ride. I think I will be able to offer some valuable insights for many more areas of life besides cooking and that in many ways all the areas compliment each other in some way. I have been exploring crystals lately and their benefits. I can't say much yet besides that they uplift me when I look at them and hold them in my hand. For this session I decided to even include them in the photos and I was quite surprised with the outcome. I thought it would look much more funny but I actually like it. What do you think?
As always, I would be very happy to hear your feedback and hope you enjoy this recipe. If you share it on Instagram, don't forget to tag me #vegan__art. Thanks and have a lovely day!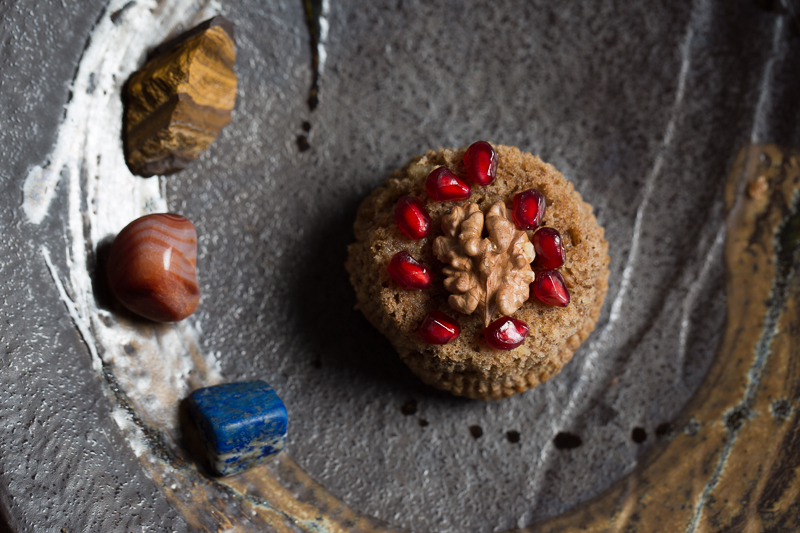 Vegan Coffee Cardamom Walnut Cakes
Adapted from "The Violet Bakery Cookbook by Claire Ptak
Makes 12 individual cakes
FOR THE SPONGE:
75 g walnuts
210 g wholegrain spelt flour
3/4 teaspoon baking soda
3/4 teaspoon baking powder
1/2 teaspoon fine sea salt
3/4 teaspoon cinnamon
1/8 teaspoon cloves
1 teaspoon ground cardamom
1 teaspoon ground pink peppercorns
120 g raw cane sugar or coconut sugar
70 g melted coconut oil
2 flax eggs (2 tablespoons of ground flaxseeds combined with 6 tablespoons of water)
1 1/2 teaspoons of vanilla extract
210 g coconut yogurt
FOR THE ICING:
100 g icing sugar, I ground raw cane sugar in a food processor until it was fine
2 tablespoons of freshly brewed strong coffee or espresso
pomegranate aril and walnut halves , to decorate (this is optional; they are delicious on their own)
METHOD:
Preheat the oven to 170 °C. Brush a muffin pan (12 holes) with coconut oil.
First, warm the walnuts through on a baking tray in the oven. Do not toast them, you just want to bring out the fragrant oils. This should take less than 5 inutes. Let the nuts cool slightly then chop fine. Set aside.
To make the flax eggs, combine the flaxseeds with water in a small bowl.
In a large bowl, sift the flour, sugar, baking soda, baking powder, salt and spices.
In a separate bowl, whisk together the coconut yogurt, coconut oil, vanilla extract and flaxseed eggs.
Combine the dry and wet ingredients together until fully incorporated.
Divide the batter between the 12 tins and bake for 20 minutes until the cakes spring back to the touch. Let the cakes cool in their tins for 10 minutes, then gently pop them out (you may need to run a small paring knife along the inside of the tins to ease them out. Place the cakes upside down on a wire rack.
Whisk together the ingredients for the icing and spoon it over the cakes. Decorate with walnut halves and some pomegranate seeds.
Enjoy!