13 Jun

Strawberry Poppyseed Yoghurt Cake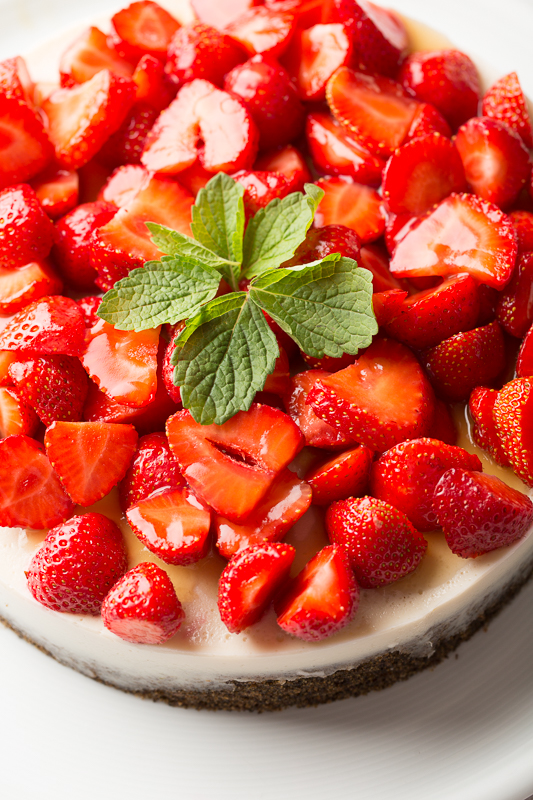 I have been struggling lately with my purpose. My passions remain the same but I have difficulty separating the realistic side of making a business out of my passion and the more creative side that is mostly lead by my intuition. I now that being organised and very clear about what I want to do is the first step in making a business out of my passions but I often get overwhelmed about all the possibilities about what it is that I actually want to do. One day it will be just cooking, the other day blogging and then baking. I love all of it and I don't want to reduce myself to one thing. I don't like labels and I don't like calling myself a cook or a baker. I'm just passionate about food. If I were to say that people would probably be confused. Being vegan is also something that I find myself having to explain more than I care to. I am vegan simply because I love this lifestyle and it makes me feel great. I am not the activist type and don't enjoy getting into discussions about the kind of lifestyle that I lead and yet at the same time I am trying to inspire people to eat this way. There again I stumble on a contradiction. If someone would ask a chef who happens to be an omnivore to explain why they lead the lifestyle that they do it would be considered strange. Nobody asks Jamie Oliver why he eats animal products? For vegans its the other way around. They are mostly bombarded with questions about why and how why they eat the way they do and much more. This aspect of the lifestyle can be very draining and I prefer to avoid any discussions and just enjoy good food.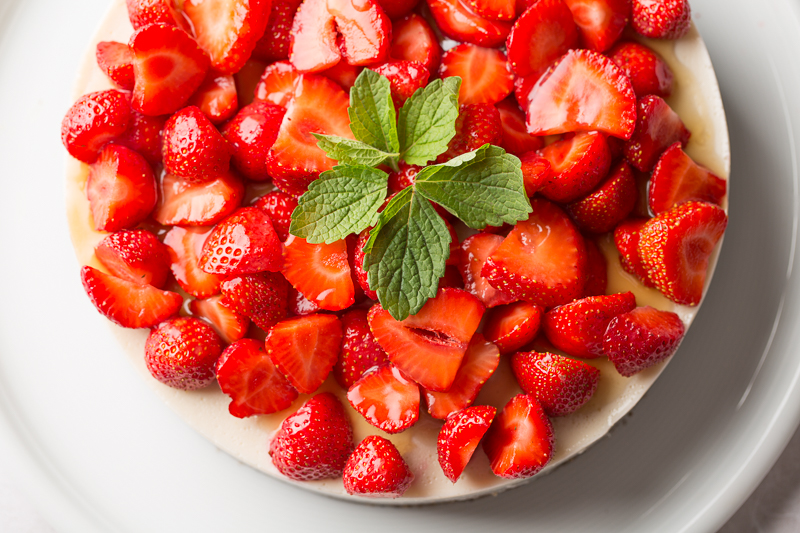 I have been exploring different channels of development and have stumbled across Jasmine Star and did an Instagram Challenge with her. It was a really inrichening experience and I came out thinking there are definitely more ways of expanding my horizons and that it is actually more about serving others in the end. I struggle with the idea that the gifts I have to offer are not necessarily that what people or my audience need but lately I've realized that in order for me to be of service to others I have to be happy doing my "thing". So it all comes down to exploring those paths that light you up. I especially had difficulty expressing in a few words what it is that I do. I still can't do it and I'm refining it over time. At the moment it sounds like this, "I love to cook and share it with others!" It just made me laugh inside. Its so simple. Well, I'm in on keeping things simple.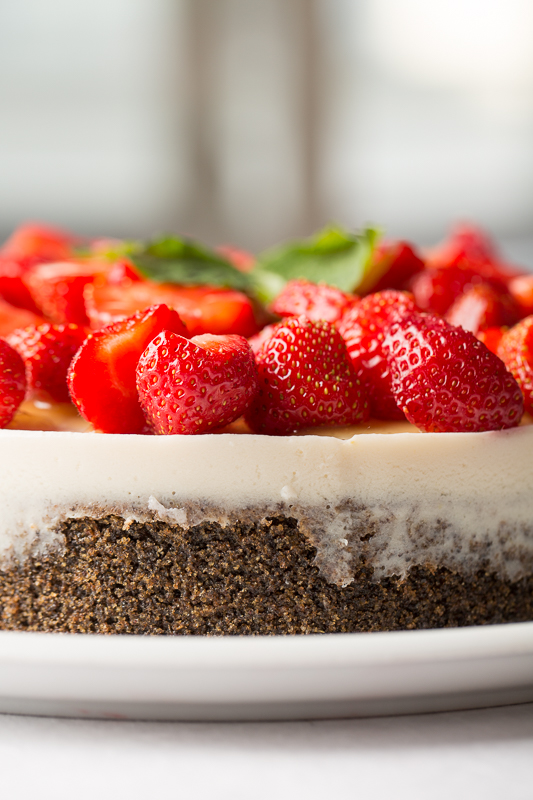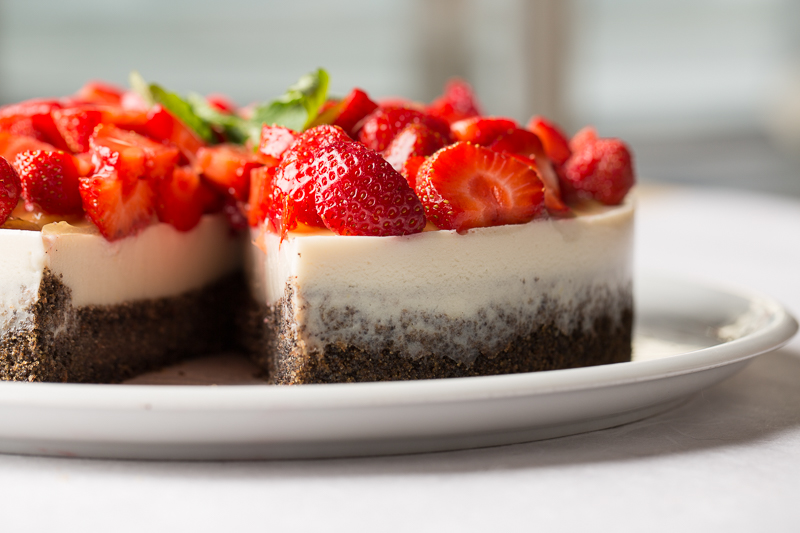 Along with the obvious struggles of being a serial over-thinker come the challenges of being a wife and mother of three growing children who need my attention, time, care and love. Increasingly I have a great need for solo time and some kind of self-care routine. I have phases where I carve out time in the day to do a self-care routine but as soon as let go just a little it disintegrates into a long lost memory and a longing to go back and start all over again. The beginning or the first time is always a hurdle to overcome, a distant memory and once I've achieved it a certain laziness kicks in and I have to start from the beginning. I shouldn't be so hard on myself. I do manage to meet friends at least once a week and I have become consistently better at managing my blog and business time to the mornings. I especially look forward to the rhythm and continuity that blogging provides me and of course, I enjoy the process of thinking up new recipes all the time. I could probably post a recipe for each thing that I cook but there is another aspect of blogging that is just as time-consuming and that is shooting. Everything has to be planned in advance so that the ingredients are fresh and that no children are too impatient or hungry to eat it up before it gets photographed. Inevitably the best part is eating it afterwards but I would say creatively the process before is what excites me the most.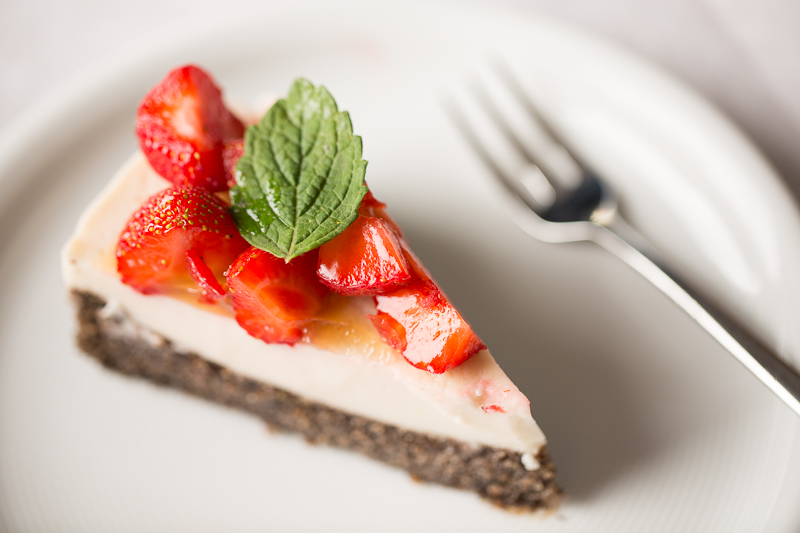 At the moment I am brimming with ideas because this season and the market offer so much variety and a bounty of fruit to explore in numerous ways. It is the season of berries and cherries and herbs and apricots. I am also excited because I'll be celebrating my birthday soon and I hope to make a cake that tops all cakes. Rich in flavor and lightness from the sheer beauty of what the season has to offer and perhaps a touch of romance as well. We'll see what is coming. I promise that it will be something worthwhile.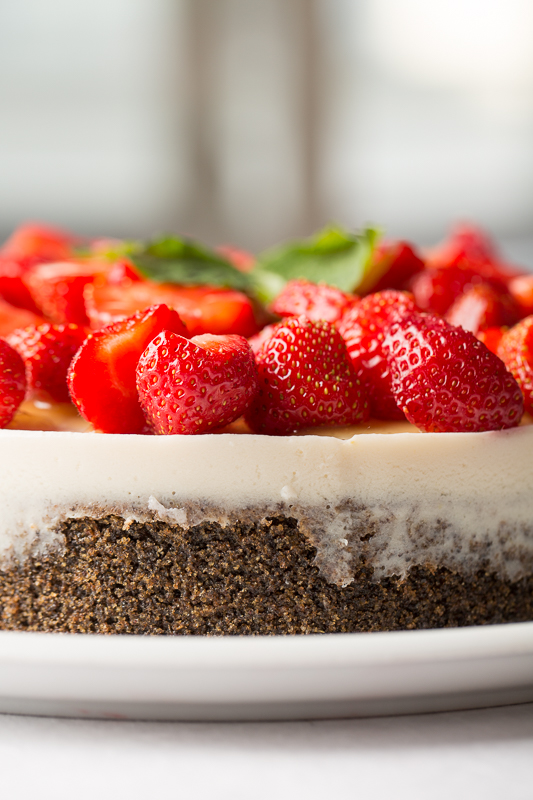 To keep you equipped with delicious cakes for the next while I have a cake for you today that I call the fancy but simple cake. It requires a simple cake base, a stovetop yoghurt cream and is covered with a showering of fresh strawberries. To keep everything in place you'll need a cake ring or simply pour the yoghurt cream into your springform. Tuck the cake away into the fridge and go for a walk or a swim or meet a friend and when you come back your cake will have set and you can enjoy it cooled with a refreshing summer drink or cocktail. Cheers to summer!
I would be delighted if you leave a comment or even better try the recipe and share it on Instagram. Don't forget to tag me #vegan__art. Thank you!
XO,
Aleksandra
Strawberry Poppyseed Yoghurt Cake (Vegan)
Makes one 24 cm cake or 10 servings
Poppyseed cake:
120 g ground poppy seeds
120 g wholegrain spelt flour
50 g coconut sugar
1 tsp baking powder
1 tsp baking soda
75 ml coconut oil
100 ml maple syrup
240 ml plant-based milk of choice
1/2 tsp vanilla powder
zest and juice of one lemon
1/2 tsp fine sea salt
Yoghurt cream:
400 g coconut yoghurt ( I like this one)
120 g cashew, soaked
120 ml water
5 Tbsp maple syrup
1 tsp vanilla powder
a pinch of fine sea salt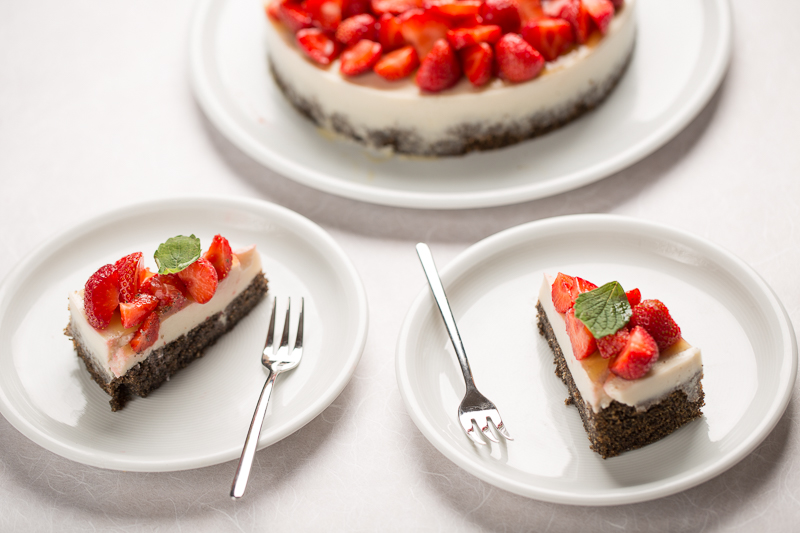 1 tsp agar agar powder
45 g arrowroot powder
Strawberry topping:
500 g strawberries, stems removed and halved
60 ml apple juice
1/2 tsp agar agar powder
1 tsp maple syrup
1/2 tsp arrowroot
Make the cake:
Preheat the oven to 175 °C. Oil a 24 cm spring form pan and line with parchment paper.
Into a medium bowl, combine the ground poppy seeds and spelt flour, baking powder, baking soda and coconut sugar. To another bowl add the oil, maple syrup, milk, vanilla, lemon juice, zest and salt and whisk together until thoroughly emulsified.
Pour the liquid ingredients into the flour mixture. Whisk until the flour mixture is completely moistened.
Pour the batter into the prepared pan and place on a middle rack in the oven and bake for 30 to 35 minutes, or until the cake starts to pull away from the sides of the pan and a toothpick inserted in the center comes out clean. Set aside to cool as you prepare the yoghurt cream. Don't worry about the base being imperfect. The topping will fill in any gaps or imperfections.
Make the topping:
In a mixer, combine the water cashews and blend for one minute. Reserve a little of the milk and stir into a separate bowl with the arrowroot. Set aside.
In a medium sized pot, add the yoghurt, cashew milk, agar agar powder, maple syrup, vanilla and salt and bring to a boil, reducing the heat to a gentle simmer and while stirring cook for 5-10 minutes to make sure the agar dissolves completely.
Add the arrowroot slurry while stirring continuously. Once the mixture has thickened considerably, remove from the heat.
Let it sit in the pot for 15 minutes to thicken before pouring into the cake base. If you have a cake ring, remove the base of the cake and fit the ring snugly around the cake and pour the yoghurt cream on top of the poppy seed cake.
Make the topping and glaze:
Add the apple juice agar, maple syrup and salt and bring to a boil. Reserve a tablespoon or two of apple juice for the arrowroot slurry and combine the two in a small bowl. Add the slurry to the apple juice mixture and stir continuously until it thickens.
Add the sliced or halved strawberries on top of the cake and then top it with the glaze by spooning it on top evenly. Cool for 20 minutes before placing the cake in the fridge to cool completely.
Cool for about 2 hours or even more and then unmold the cake by running a knife around the edge of the cake.Garnish with mint leaves and serve.