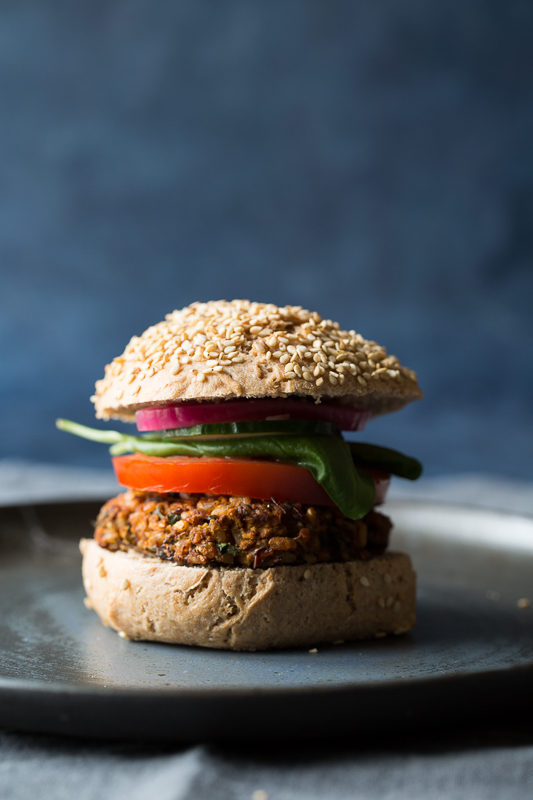 03 Jul

Lentil Walnut Veggie Burgers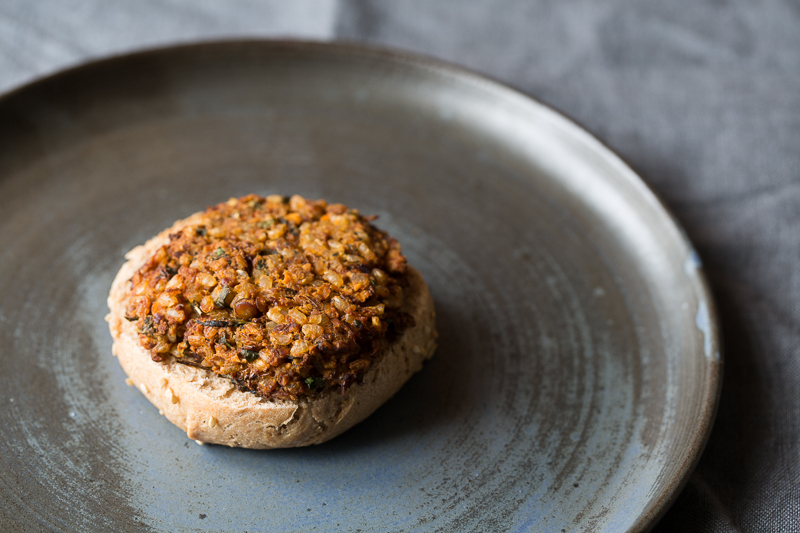 I'm back today with my go-to veggie burger recipe and some bonus recipes including homemade quick onion pickles and wholegrain spelt burger buns. I use my go-to bagel recipe minus the hole in the middle which speeds up the process. If you are familiar with batch cooking or you tend to have leftover grains and lentils, these burgers come together pretty quickly. Otherwise the whole process takes about an hour and a half. I know, not the simplest recipe but sometimes there is nothing better than a homemade burger. You can add any toppings of choice. I like to keep things simple and I usually serve it with a portion of sweet potato fries which are not pictured here.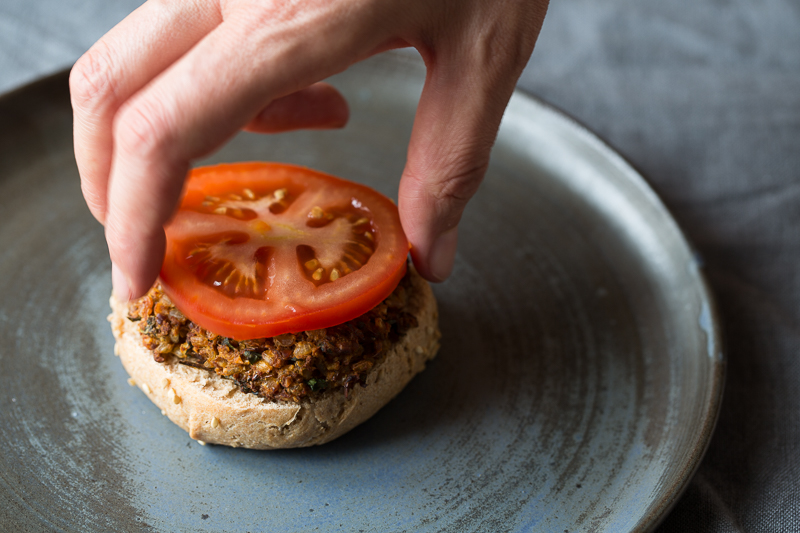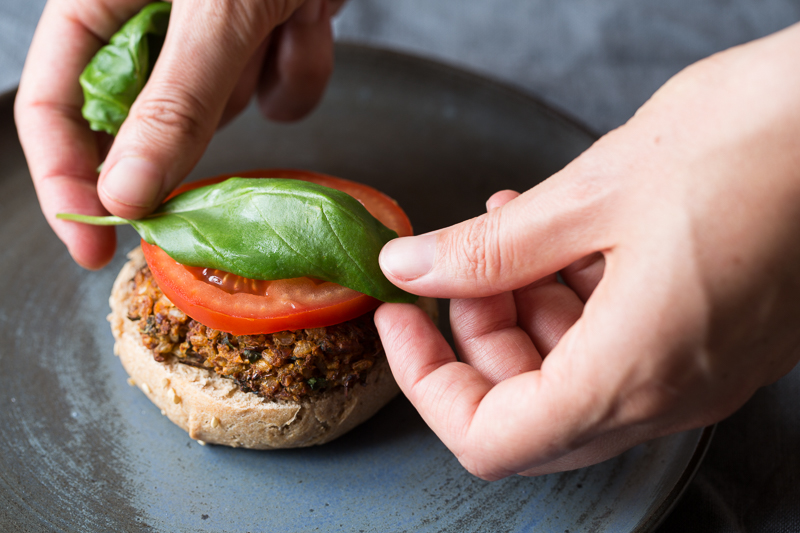 What makes these burgers also pretty easy-going is that they are oven baked, so no messy frying and it takes half an hour for them to get nice and crispy. If you are into barbecuing, these burgers hold pretty well, unlike many other veggie burgers. For barbecuing I like to add a flaxseed egg or some pureed sweet potatoes or white beans so that they glue more together but I hope you try it this way first.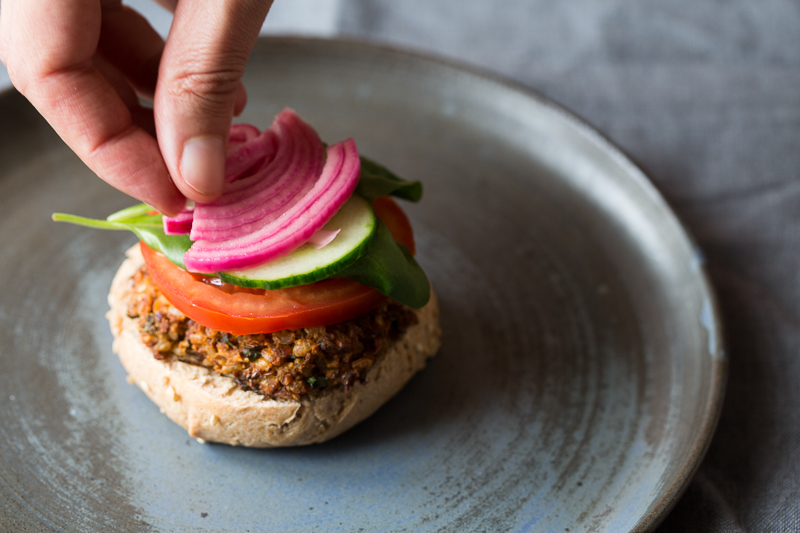 For more flavour I like to add some caramelized onions and garlic and then some spices from Sonnentor. They have a new range of spice mixes especially developed for barbecuing that are so delicious and that you can use them in a myriad of situations. I love to add them to salads, pastas and pilafs. For the burgers I used Steak that and  Smokey Paprika. Both have so much flavour that you can keep the rest of your ingredients pretty simple. I have long been a fan Sonnentor. Their products are mostly developed and produced in Austria (with the exception of products that don't naturally grow here). The quality of the products is outstanding and their shops have the best atmosphere. I always feel like staying forever and browsing.
I will keep it short today and move on straight to the recipe. Summer vibes are calling me to just chill and relax and that is exactly what I'm going to do after I've taken care of some other chores.IF you try the recipe I would love to hear your reaction and I would be equally delighted if you share your version on Instagram with the tag #vegan__art. Thanks and have a wonderful beginning to your summer! xo Aleksandra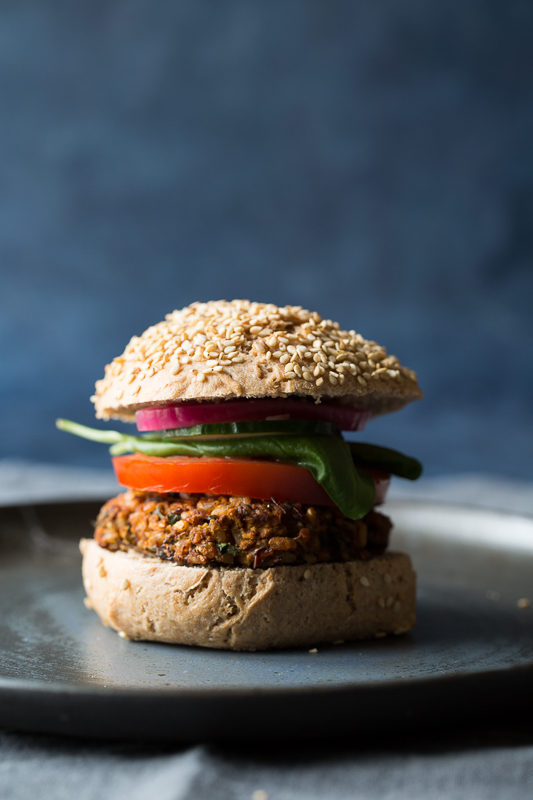 Veggie Burger with Homemade Pickles and Burger Buns
Makes about 12 burgers
Burgers:
1 cup of cooked brown rice
1 can or freshly cooked brown lentils (green will also work)
50 g oats
50 g toasted walnuts
2 flax eggs (2 Tbsp ground flax seeds mixed with 6 Tbsp water)
1 onion, peeled and roughly chopped
2 garlic gloves, peeled and chopped
2 Tbsp tomato paste
1 Tbsp tamari or shoyu
1 tsp smoked paprika
2 tsp steak that
1 tsp thyme
salt and pepper to taste
olive oil
a small bunch of parsley, finely chopped
Red Onion Quick Pickles:
2 red onions, peeled and cut into rings
2-3 cloves
50 ml red wine vinegar
100 ml water
1-2 Tbsp maple syrup
1 tsp fine sea salt
Sesame Burger Buns:
250 g water
5 g maple syrup
1 packet of dried activated yeast
30 g olive oil or vegan butter (melted)
500 g wholegrain spelt flour
10 g fine sea salt
50 g sesame seeds, to top with
Toppings:
sliced tomatoes
sliced cucumbers
fresh herbs or salad leaves
pickled onions
mustard or any sauce of choice (sriracha, bbq sauce etc.)
Method:
Heat a pan and add one tablespoon of olive oil and add the onions and sautee for about 5 minutes or until nicely browned. Add the garlic and cook for another minute or so.
Add the rice, lentils to a food processor and mix for a few seconds. Add the walnuts, oats and the other ingredients and process until the mixture holds together.
Line a baking sheet with parchment paper and form burgers with your hands. I like to wet my hands with water to help form the burgers. Brush the burgers with olive oil and bake in a preheated oven (180 °C) for 20-30 minutes or until the burgers form a crust.
To make the pickles, put all the ingredients into a small pot, bring to a simmer and cook gently for 10 minutes. Transfer to a sterilized jar and let cool. Place in the fridge for 2 hours and they are ready to be used
For the burger buns, heat the water to 37 °C and then add the maple syrup, yeast and oil/butter in a large bowl and let it sit for 2 minutes.
Add the flour, salt and knead the dough until everything is well-combined and smooth.
Le the dough rise for about 30 minutes. Bring about 1 l water to boil in a large pot. Once the dough has risen, form about 10 buns by dividing the dough in half and then so on until you have 10 buns.
Preheat the oven to 200 °C and line a baking sheet with parchment paper.
Once the water has boiled, reduce the heat an add the buns individually into the hot water and immediately remove them from the pot with a slotted spoon and place them on the prepared baking sheet. Sprinkle the tops of the buns with sesame seeds and bake for 20 minutes.
Cool before serving.
Serve everything at once with all the toppings in individual bowls so that everyone can choose what they put on their burger.