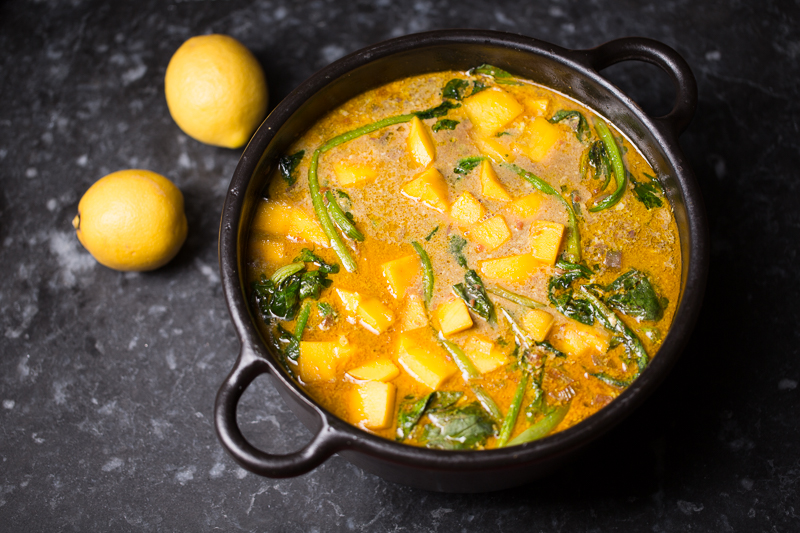 25 Apr

Kidney Bean & Mango Curry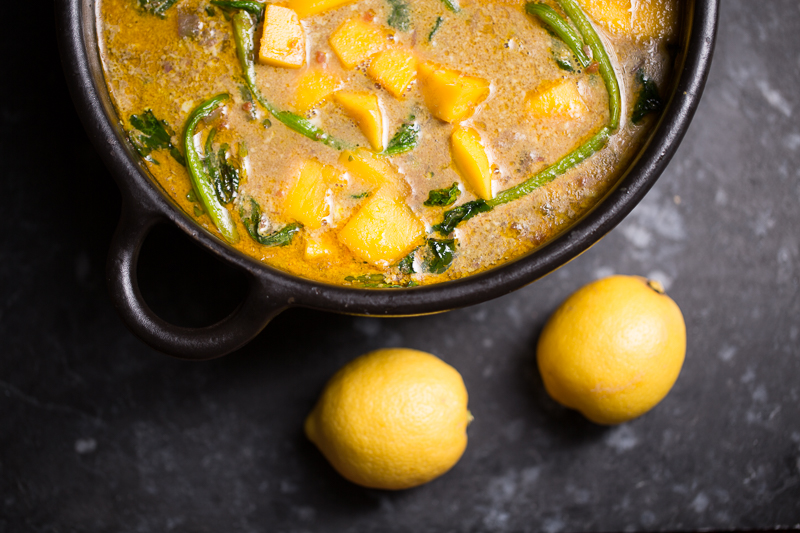 It has been a rather intense week for me and when things get intense I have the need to withdraw and reflect more on what I've been going through. I get the feeling of overwhelm when I'm around too many people and I start to realize that I am a HSP when that happens to me. I heard about the term about 4 years ago and I did a simple online test to determine it and I felt relieved in a way to find an explanation for seemingly troubling traits of mine like not being able to handle large crowds. I need enough time to reset and process everything I've been experiencing. If you haven't heard of the term HSP before, it stands for highly sensitive person and there are more details about it here. There are tests that you can do online to determine whether you are an HSP. It is said that about 20 % of the population are HSP to various degrees. Some are able to see other peoples auras and have clairvoyant abilities which I don't have but I would say that I fall on the "normal" spectrum of those who are sensitive to smells, noise and generally get overwhelmed around too many people. As I get older it has intensified and I have learned to protect my space more. Another ability of HSP's is their intuition and I would say that that is the best thing about it in my opinion. I have become very good at listening to my intuition and letting it guide me in almost all things that I do.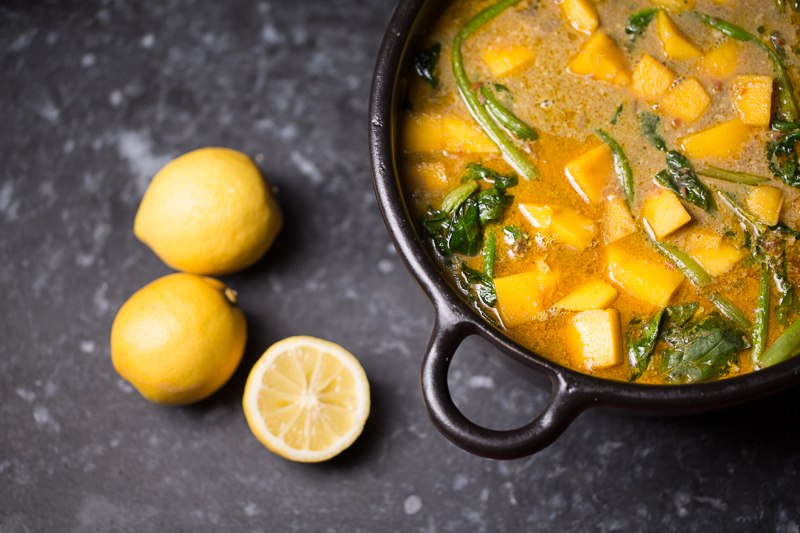 I apply the same approach to cooking and when I come up with new recipes I always start with my intuition. I ask myself, "How would those two flavours work together. My father visited me some weeks ago and he cooked beans in a kind of curry style fashion with spices like turmeric and cumin and I thought about creating my own bean curry. Normally I cook vegetable based curries and I like to add some source of protein which is usually tofu but also tempeh however this time I decided to use red kidney beans because I like their colour and creamy texture. This is a slow cooker and adapted to my father's bean stew which employs a new to me technique. The result is a very tasty curry with a luxurious and rich sauce and some sweetness and freshness to balance it out coming from fresh mango and lots of lemon juice. I wanted to use limes but I didn't have any so I went with lemons which turned out to be a solid alternative. For curries I like the flavour of limes better, though.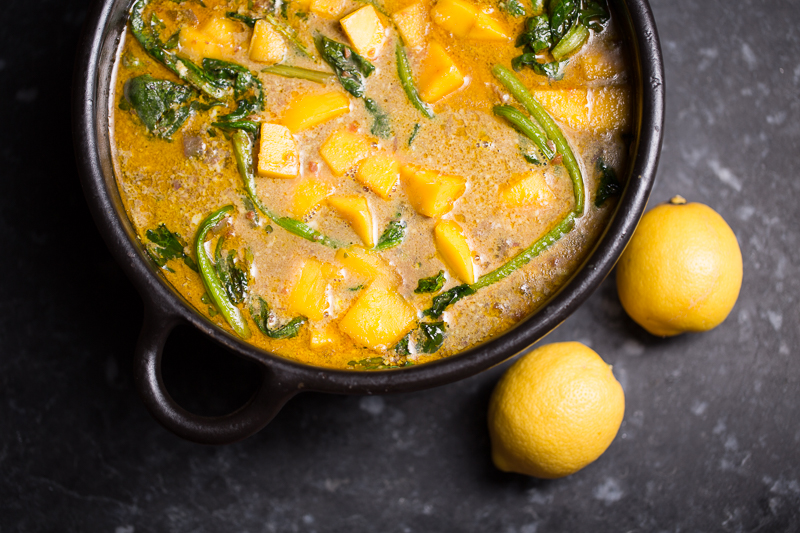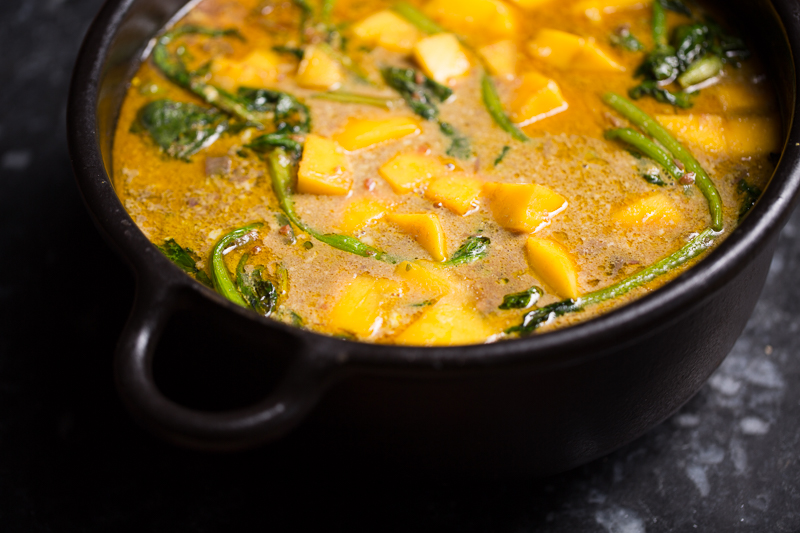 This dish takes about two hours to make and some planning ahead because the beans need to be soaked. The rice you can cook up an hour or so before you cook or whenever you have time.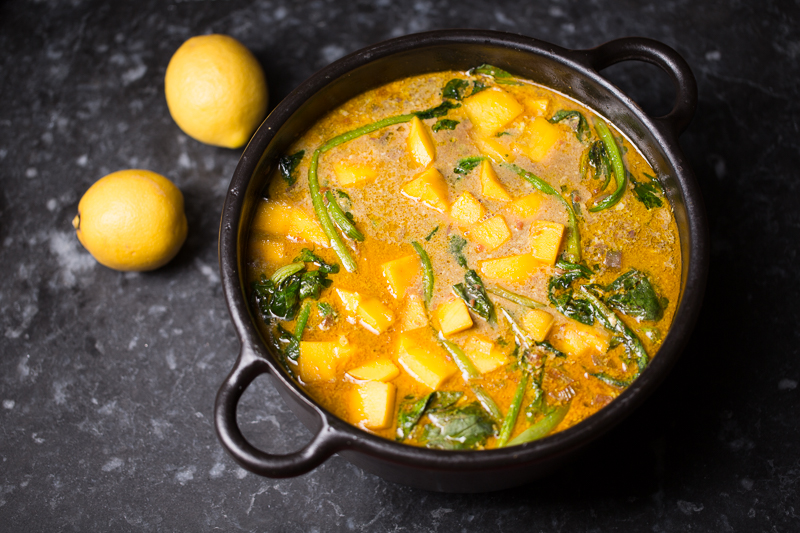 I hope you enjoy this dish as much as I did and if you want to share it via social media, please remember to tag me or mention me #veganart. I would love to see your versions. Have a lovely week! xo Aleksandra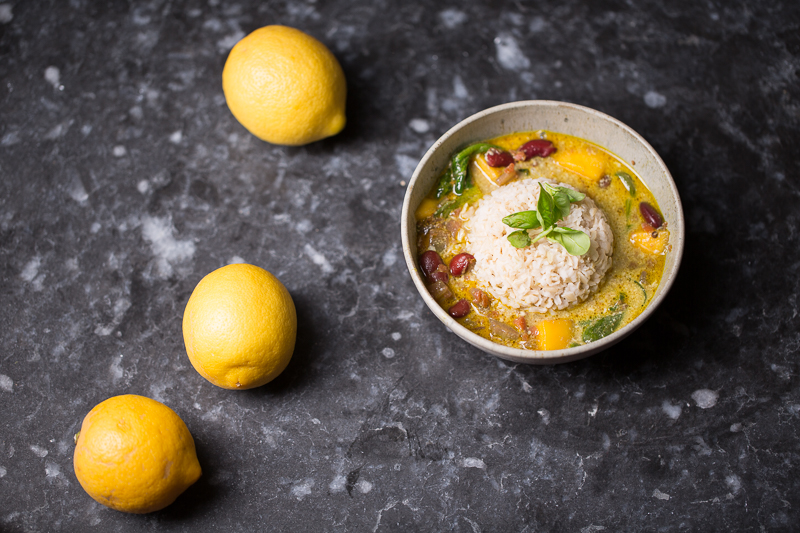 Kidney Bean & Mango Curry
Serves 6
Ingredients:
500 g kidney beans
coconut oil
1 chili
1 bay leaf
1 tsp whole coriander seeds
1 tsp whole cumin seeds
1 tsp turmeric
2 Tbsp curry powder, my own blend consists of cumin, coriander, cardamom, cloves, fenugreek, chili, turmeric and cinnamon
3 large carrots, finely grated
2 onions, peeled and chopped
2 celery sticks, chopped
1 red pepper, deseeded and cut into cubes
4 cloves of garlic, peeled
1 thumb size piece of ginger, finely grated
1 can coconut milk
1 mango, peeled and cut into cubes
200 g spinach
2 lemons
To serve:
whole grain basmati rice
basil
Method:
Start by prepping all the vegetables and spices and grating the carrots in advance.
In a large pot heat about 2 tablespoons of coconut oil and add the grated carrots to the oil followed by the whole cumin seeds, whole coriander seeds and turmeric.
Simmer for a few minutes, then add the onions, celery, red pepper and curry powder and cook until the onions are translucent.
Drain the beans and rinse them under cold water. Add the beans to the pot and enough water to cover the beans about 5 cm. Don't stir!
Bring to a simmer and add the garlic cloves, ginger and cover the pot with a lid and leave to cook for an hour and a half checking every so often to make sure the beans are covered with water. If necessary add some water. Don't stir during the entire cooking time.
After one and a half hours the beans should be tender. At this point you can add the can of coconut milk and cook for another ten minutes. Season with salt and pepper.
Now you can stir the curry adding the spinach and topping it off with the fresh mango. As soon as the spinach has wilted you can remove it from the heat. Season to taste with salt or pepper and lemon juice.
Serve with rice and some basil leaves and slices of lemon if desired.