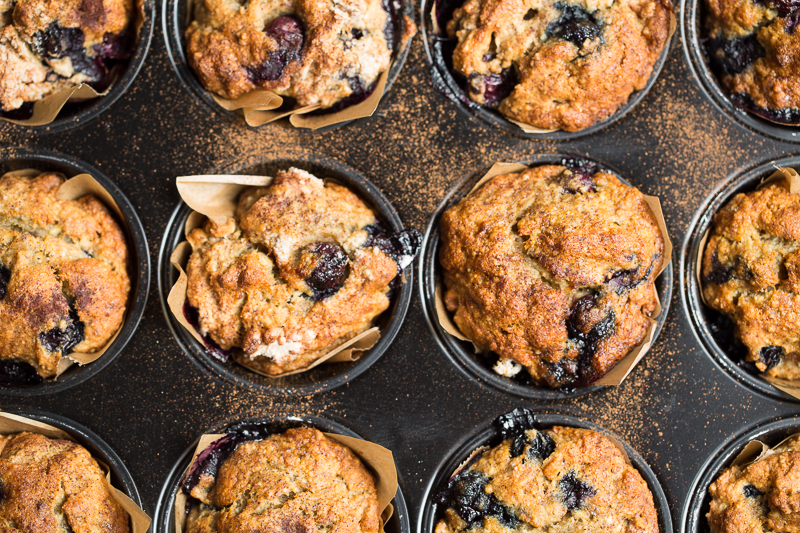 21 May

Gluten-free Banana Blueberry Muffins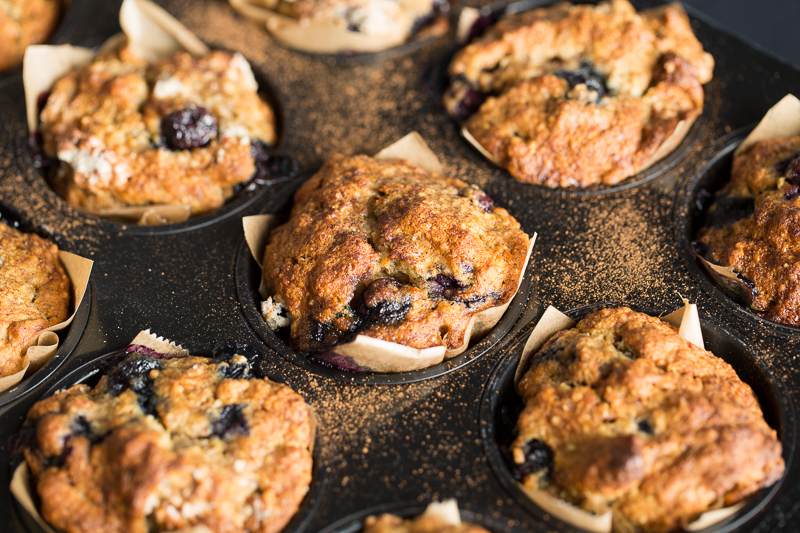 I probably mentioned before that the beginning of my week is pretty sacred to me. This week will be incredibly epic because I will be making my first wedding cake and I will also be selling my baked goods at a market. It has been quite a process lately trying to figure out what it is that I want to focus on and then I feel kind of trapped by the idea of doing one thing. I actually feel at home being as diverse as possible and I guess it takes times to figure out what it is that makes me "me". Secretly I do hope that things become more clear in the sense that everything that I do leads to one simple and clear goal where I can make the biggest impact.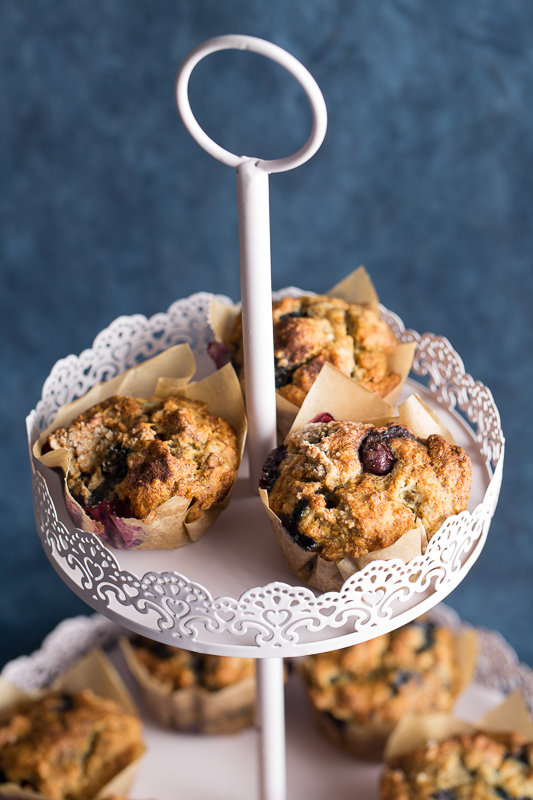 Lately I have been trying to streamline my offer to include gluten-free pastries and I have experimented with many different recipes and formulas. Meanwhile there are a lot of resources for gluten-free baking but gluten-free and vegan baked goods are less available. Raw and vegan seem to be more common and also paleo blogs. One blog that I turn to again and again for gluten-free and vegan recipes is Minimalist Baker. It is one of the most inspiring blogs for me and I always come away wanting to make something from them.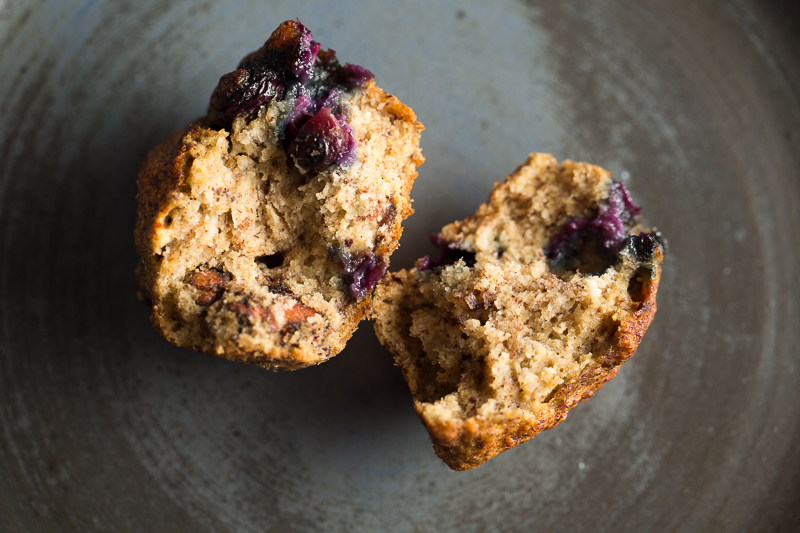 When I was starting off with gluten-free baking I tried some of their recipes and they always turned out well. I also have their book and have made many things with equal success. Since I'm not a fan of going shopping for one recipe I always use what I have on hand and this time it was the same. The original recipe was with chocolate and pecans and I only had walnuts and blueberries so I thought "Why not?" and as I suspected it turned out great. I also didn't have two different kinds of sugar so I used only one and that was also fine. The muffins were moist with just the right amount of sweetness. I like muffins to be more like a breakfast treat than an actual dessert, so no frosting or sugar glaze. For me that reminds me more of a cupcake. I know some people would scold me and say that I should try out a recipe as written but I like to break rules. My gluten-free flour blend also varies depending on what I have on hand. I know that most people can't buy fancy special flours but once you get into it its like discovering new ingredients and it becomes like an adventure exploring new textures and flavors. I think I'll do a post soon about different gluten-free flours and how to mix them. How does that sound? I'd love to hear from you and let me know what kind of content you would like to be seeing on this space.
Let me know how it turned  out in the comments below and tag me on Instagram #veganart . Thank you!
Let's move on to the recipe.
Gluten-free Banana Blueberry Walnut Muffins
adapted from The Minimalist Baker
Makes 12 Muffins
Prep Time 15 Min.
Bake Time 20 Min.
Total Time 35 Min.
Ingredients:
2 flax eggs (2 Tbsp ground flax seeds mixed with 6 Tbsp water)
1 ripe banana
2 tsp baking soda
70 g coconut sugar
60 ml maple syrup
1 tsp cinnamon
1/2 tsp fine sea salt
1 tsp vanilla extract or vanilla powder
60 ml coconut oil
160 g gluten-free flour blend * see below for the exact blend
50 g ground almonds
50 g ground gluten-free rolled oats
50 g walnuts
120 g fresh blueberries
Optional:
a sprinkling of cinnamon or sugar
Gluten-free flour blend:
240 g brown rice flour
45 g sorghum flour
45 g potato starch
40 g white rice flour
30 g tapioca flour
Method:
Preheat the oven to 190 °C. Lightly grease a muffin tin with oil or line with paper liners (I made my own using parchment paper).
Prepare the flax eggs by mixing the ground flax seeds with water and let it sit for 5 minutes.
Add the banana and baking soda and mash together.
Add the coconut sugar, maple syrup, cinnamon, and salt. Whisk for about a minute.
Add the vanilla and coconut oil. Whisk again.
Add the flour, ground almonds and oats Stir until just combined. Don't over mix.
Fold in the blueberries and walnuts.
Top with cinnamon and sugar if desired.
Bake for 17-22 minutes or until the tops are golden brown and a toothpick comes out clean.
Let cool for 5 minutes then gently remove form the muffin tin and enjoy warm or at room temperature.