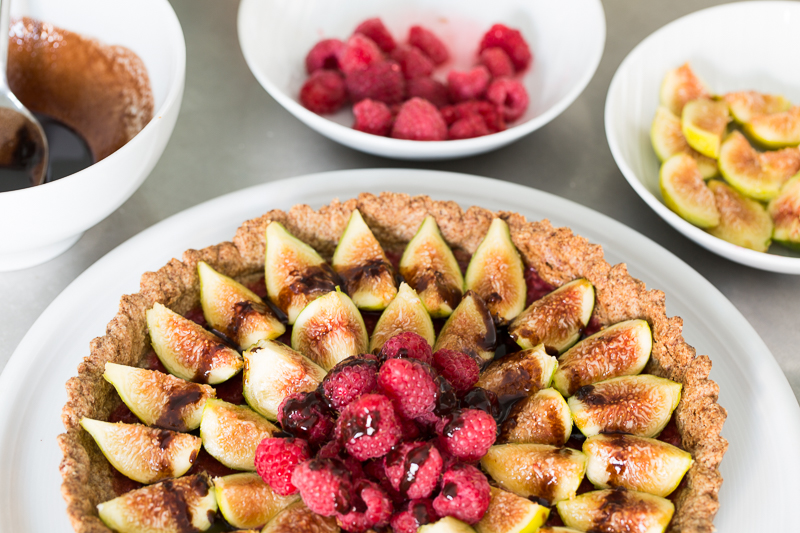 05 Sep

Fresh Fig and Raspberry Tart

The first time I experienced a fresh fig was at the age of 5 in  front of my grandmothers house in Croatia. That is also when my love affair with figs began and is still going strong up until this very day. Food has always been a strong part of my life and I guess in all our lives but I must say that the fig is probably the strongest and most ingrained memory of food that I have. I guess that's what makes our taste buds so special and stubborn at the same time. We all have strong food memories and its something that fascinates me so much. Now when I pass by a fig tree I can't help but feel connected to my family and my Croatian roots and soil as well. If I could describe what it means to be Croatian I would probably say it is the smell of figs trees and olives. Bitter and sweet and fragrant and herbal and grassy. Sage grows wild and abundantly and so do bay leaves and all these smells intermingle and create a wild mix of impressions.

Each year I return and I am always moved by the landscape and inevitably I reach for a fig if it happens to be fig season. There are many varieties of figs and the ones I love the most are green skinned with a jewel like red centre. I had the fortune of just spending two weeks in fig paradise and I indulged every day. Mostly directly from the tree. It was funny to listen to the stories of the local ladies talking about how caloric figs are and for those trying to loose weight poison. I was curious and looked it up right away and found out the opposite to be true and was delighted. 100 g of figs contain about 60 calories and have 0 cholesterol and no fat. Seeing that I only eat them once a year and didn't feel the least bit guilty eating as much as I desired. When our holiday was coming to an end I knew I had to take some with me and I had in mind to create some kind of dessert but wasn't sure what. The day we left I bought 2 kilos at the market and when I got back I started thinking about different possibilities. First I contemplated making a polenta cake with figs and rosemary to keep things very mediterranean but then I got this idea of combining them with raspberries from an old dessert cookbook of mine from David Lebovitz. Before going vegan I was and still am a big fan of his and I love his simple yet indulgent creations where the focus is on delicious no fuss desserts with top notch ingredients. Since I have already veganized so many recipes I thought this will be a cinch. No baking involved besides the crust and keep everything as fresh as possible. Since raspberries are one of my favourite fruits and figs too I thought, why not combine them. Besides being stunning to look at it is also a very unusual and winning combination. The original recipe uses almonds in the crust which I also used and a honey drizzle. I opted for using chocolate because when does chocolate not work.

This recipe includes a simple spelt almond crust and raspberry chia jam filling, fresh figs and raspberries and a raw chocolate drizzle with only three ingredients. It is simple to make and a wonderful addition to a dinner menu or whenever you are in the mood for something special. 
I love making tarts because they are easy, adaptable and you can use the abundance of fruit that is available at this time of the year.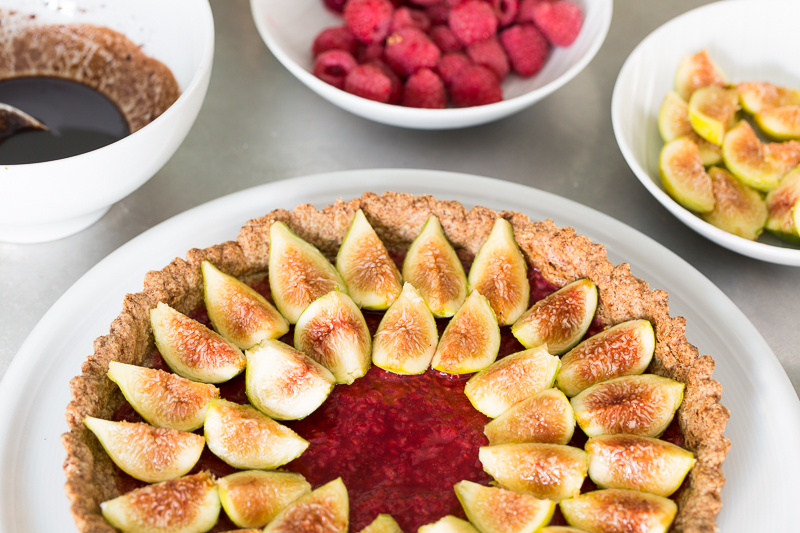 This tart is best served the day it is made and if you want to you can also serve it with some vanilla ice cream or whipped coconut cream.
If you are in the mood for something sweet with little effort and are also a fig fan like me give this dessert a go. I promise you you won't regret it. If you need convincing that you like figs then my suggestion would be to visit a country where they grow first (ie. Croatia, Greece, Turkey) and eat them off the tree. Then I am pretty sure you will be converted. When buying figs choose figs that are splitting a little at the seems and that ooze a sap-like nectar at the end.
Fresh Fig and Raspberry Tart
makes one 9 inch (23-cm) tart; 8 servings
Crust:
100 g whole grain spelt flour
80 g ground almonds
40 g ground oats
50 g coconut sugar
100 g coconut oil
50 ml maple syrup
a pinch of vanilla powder
zest of one orange
1/2 teaspoon salt
Filling:
65 g raspberry chia jam (recipe below)
12 ripe figs
120 g raspberries
3 tablespoons of raw chocolate sauce (recipe below)
Raspberry chia jam (makes 1 small jar):
200 g fresh or frozen
2 tablespoons maple syrup
2 tablespoons of chia seeds
raw chocolate sauce:
3 tablespoons raw cocoa powder
3 tablespoons maple syrup
1 1/2 tablespoons olive oil, for a milder taste use coconut oil
a pinch of salt
Method:
To make the dough, in a food processor, grind the almonds,flour, sugar and salt until very fine. Add the coconut oil and maple syrup and pulse until the dough forms a ball. Transfer the dough to a tart pan and using your hands and some plastic wrap, press the dough into the form evenly. Freeze the dough-lined tart pan for 30 minutes.
Set the pan on a baking sheet and prick the frozen tart dough with a fork. Line the dough with a sheet of aluminum foil or baking paper and fill with pie weights (I use dried beans or old coins).
Bake the tart shell for about 20 minutes. Remove the foil and bake for another 10 minutes until golden brown. Let cool completely.
To fill the tart warm up the raspberries with the chia seeds and maple syrup in a small pan and cook for about 5 minutes. Transfer to a sterilized jar and use what you need to cover the bottom of the tart shell with enough raspberry jam.
Cut the ends of the figs if necessary and cut them into quarters. Arrange the figs in the tart shell in two concentric circles, cut sides up, fitting them snuggly side by side. Arrange the raspberries in the centre of the tart.
TO make the chocolate sauce, stir all the ingredients together in a bowl until smooth and then drizzle over the tart.
Remove the tart pan sides by setting the tart pan on an overturned bowl. Gently press down on the outer ring and let it fall on the counter. Slip the tart onto a serving plate.
Serve the tart in wedges or just as is.