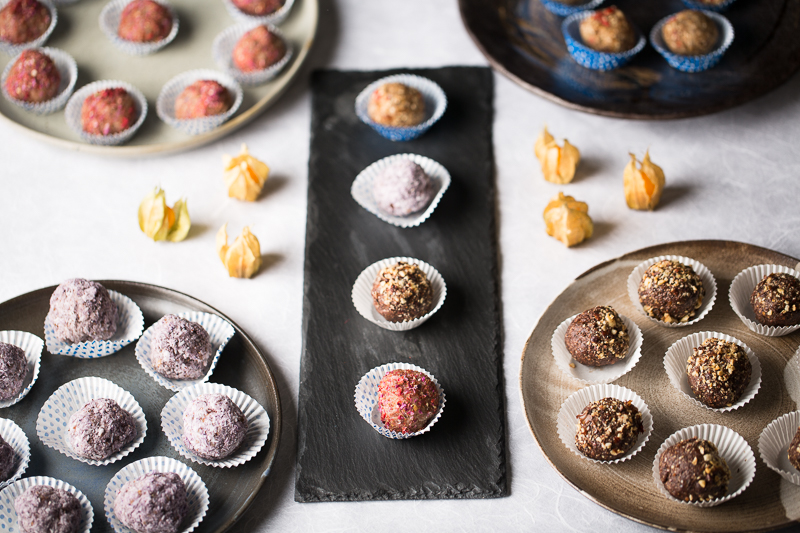 05 Jun

Energy Balls I The Ultimate Guide with 4 Different Recipes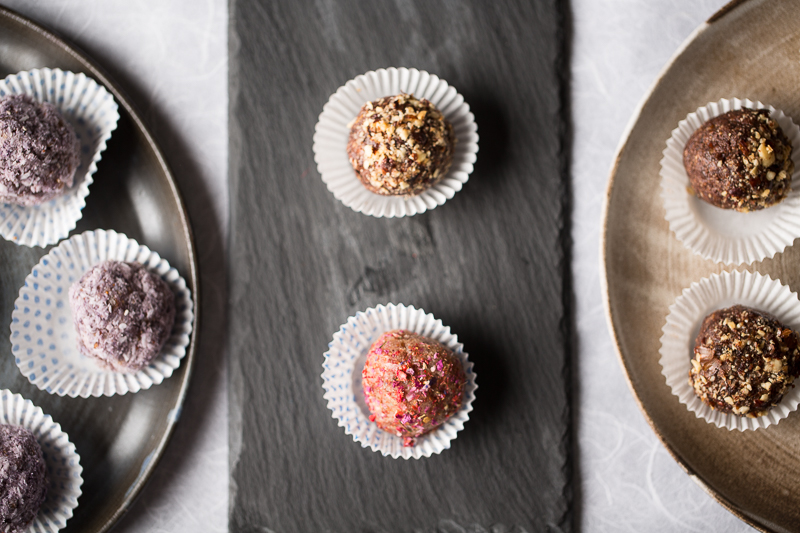 Making energy balls is something I often plan on making but often forget to because like many things I assume it is too time consuming or simply too much to add to my to do list. For those of you who are searching for healthy snacks for your kids, I'm sure you know how much money gets spent on everyday snacks, especially if you are on the go. Living in Austria it is part of most parents tasks to pack a snack each day. Luckily I don't have to pack a lunch but snacks are mostly bread and some spread but every once in a while I try to change things up a bit. That's when I started making energy balls. Mostly I got inspired by store bought energy bars and of course food blogs. After a lot of trial and error I developed different variations and developed a formula that works as a base for many different flavors.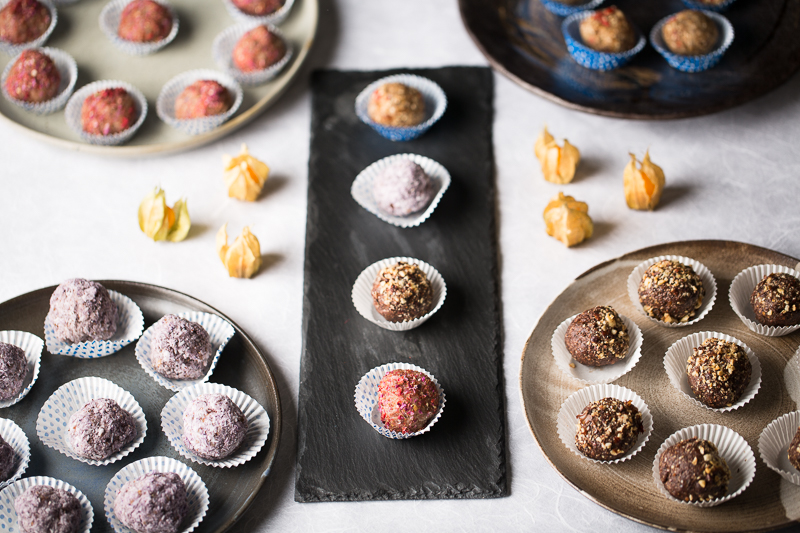 Basically you begin with a base of dates and nuts, a little coconut oil and different flavors or additions. It was a lot of fun creating different flavors and I was inevitably guided by my children's tastes and also by a big shipment of dried fruit and nuts from my Mom. For today's post I created 4 versions and all of them are ready in a minute. The most time consuming part is simply rolling the balls and putting them away My eldest son, Konstantin is a lemon lover so I created a lemon goji berry energy ball for him coated with sesame seeds. Its really zesty and lemony and has just the right amount of sweetness. For my youngest chocolate loving son I made a chocolate hazelnut version and the other two just happened by accident. I also saw a wonderful spice blend in a shop that I love called Grüne Erde. The spice blend is a combination of dried strawberries, dried raspberries, pink peppercorns, rose petals and vanilla. When I saw it I knew I can make an energy ball with exactly those flavors. It has been a blast creating these and they are so easy to make.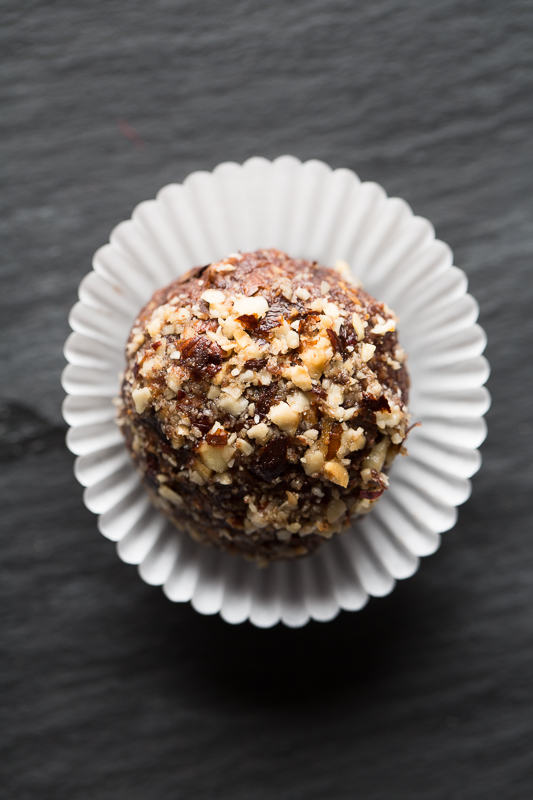 I hope you explore these flavors and many more and I invite you to make your own combinations and share them on Instagram and tag me #vegan__art. I love seeing other versions and getting people to make their own food. To summarize the benefits of making energy balls on your own are there are so much more exciting flavors you can try, they are nourishing and inevitably much more delicious than buying ready made products. On the positive side, you'll also save some money. So, let's move on to the recipe. Have a lovely day! xo Aleksandra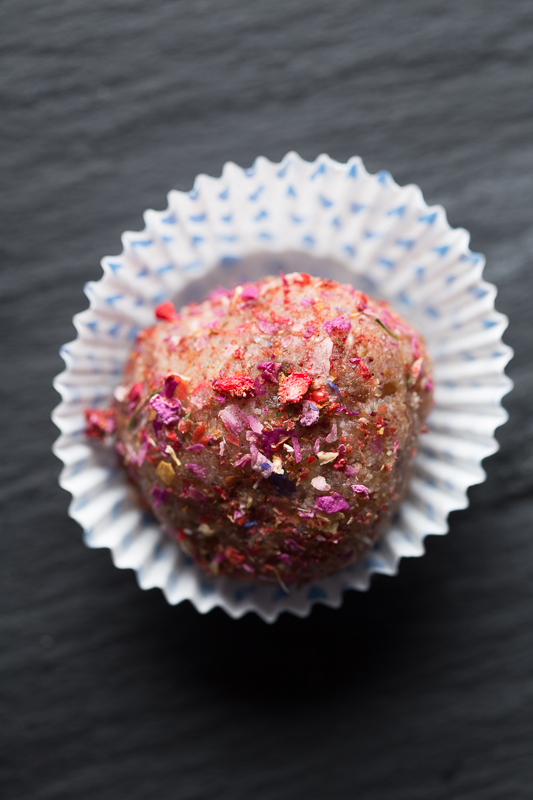 Energy Balls I The Ultimate Guide with 4 Different Recipes
Chocolate Hazelnut:
150 g hazelnuts, roasted *, reserve a little extra for coating
100 g medjoul dates, pitted
3 Tbsp cocoa powder
1 pinch vanilla
1 Tablespoon coconut oil
a pinch of fine sea salt
Goji Berry Lemon:
150 g almonds
100 g medjoul dates, pitted
zest and juice of 1 lemon
a handful of goji berries
sesame seeds, for coating
a pinch of sea salt
Raspberry Rose:
150 g almonds
100 g medjoul dates, pitted
2 Tablespoons of raspberry powder or other berry powder
1 Tablespoon coconut oil
extra powder for coating
a inch of fine sea salt
Blueberry Coconut:
150 g dessicated coconut, reserve a little extra for coating
100 g medjoul dates, pitted
2 Tablespoons of blueberry powder or a few blueberries
1 Tablespoon coconut oil
1 Tablespoon grated ginger
a pinch of vanilla powder
a pinch of fine sea salt
*Note: This is the only version where I toast the nuts to improve the flavor. I roast them for 10 minutes at 180 °C. After they cool off, rub the skins off with a cloth.
Method:
In a food processor start off by grinding the nuts briefly. Add the other ingredients and process until everything holds together except for the goji berry lemon version. There add the goji berries after so that they don't get over processed.
Roll them into balls with extra hazelnuts, sesame seeds, raspberry rose powder and coconut. Refrigerate so that they can firm up a bit. They taste better when a little chilled.
Enjoy!