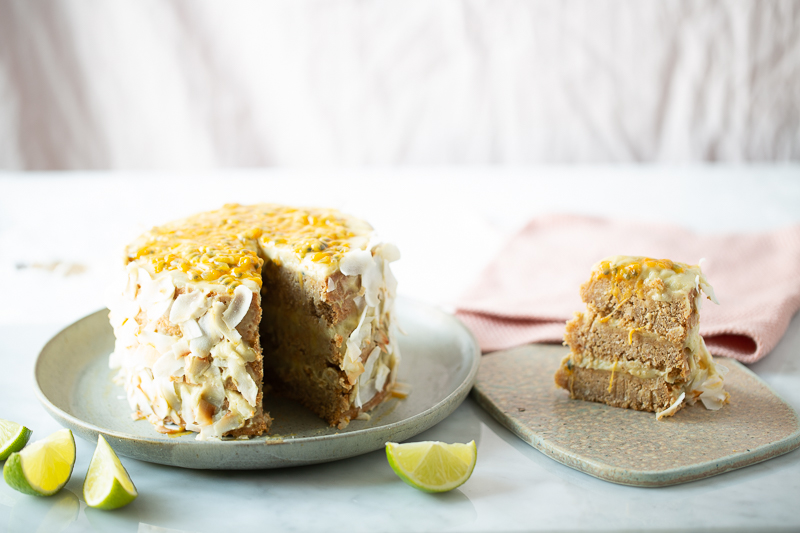 24 Apr

Coconut Lime Passionfruit Cake (V&GF)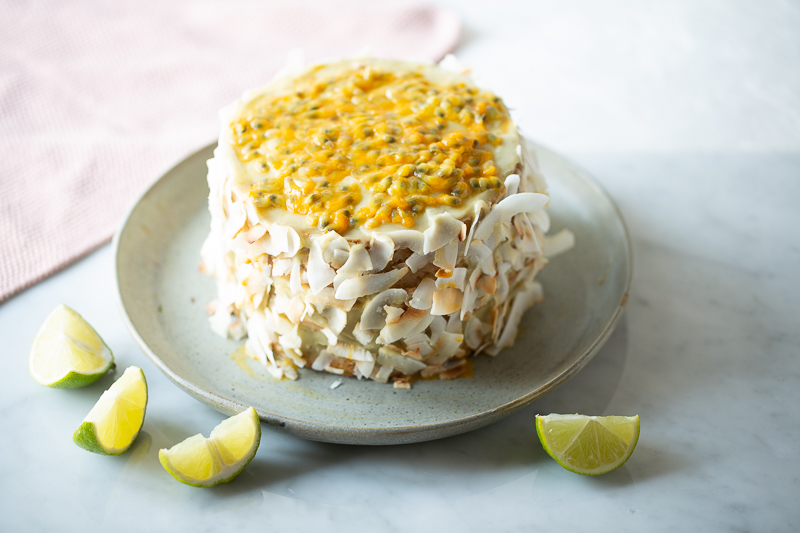 Its Easter weekend and I am enjoying glorious weather and having a peaceful and reflective time. This weeks recipe is a cake I made for my son's 16th birthday. I have to shake my head in disbelief at this fact. Only some years ago he was growing inside me and I was nursing him and now he is a young man on his way into adulthood. Time is really relative and I can see so many memories like a short film in front of my eyes.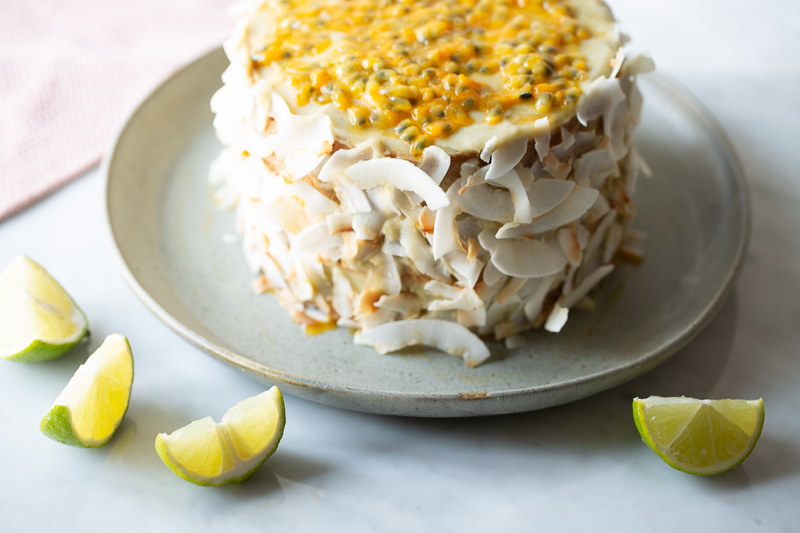 If anything being a mother has taught me, then that I am far from being a finished product and I see my children as the real masters. Masters of being unapologetically themselves, never wavering, accomodating etc. It has been incredibly frustrating and equally fulfilling to be a witness to his growth. Like watching the most beautiful bud turn into a blossom and being in awe. What have I brought into the world and how will I be able to let go? I know it's a temporary journey and the time will come when I won't be the most central part of his life. I never was really. There's a certain loneliness in knowing that and I'm sure that I am not alone.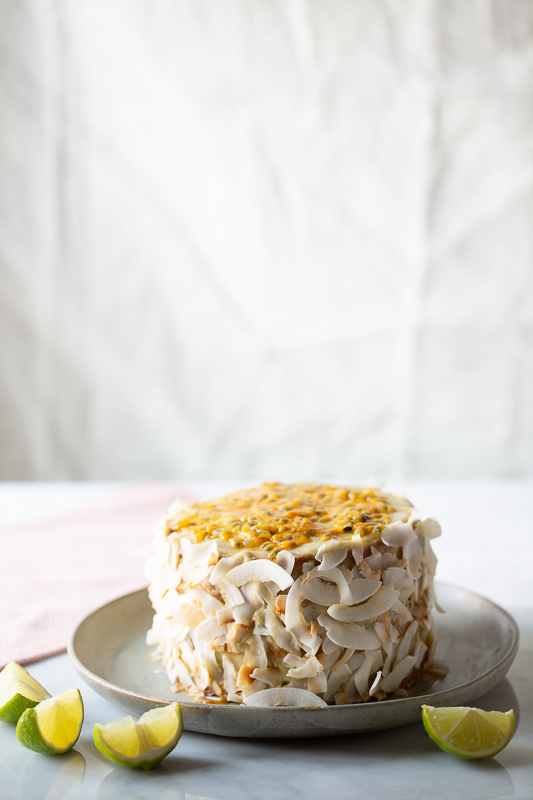 Inspired by his favourite flavours (the more exotic the better, sour and spicy) I played around with the ingredients coconut, lime and passionfruit. All three flavours harmonize together beautifully and I knew it would be a winning combination. I am happy to say that especially he has adopted my ways when it comes to nourishing his body and he is very mindful of what he eats. This pleases me and makes me a little proud as well.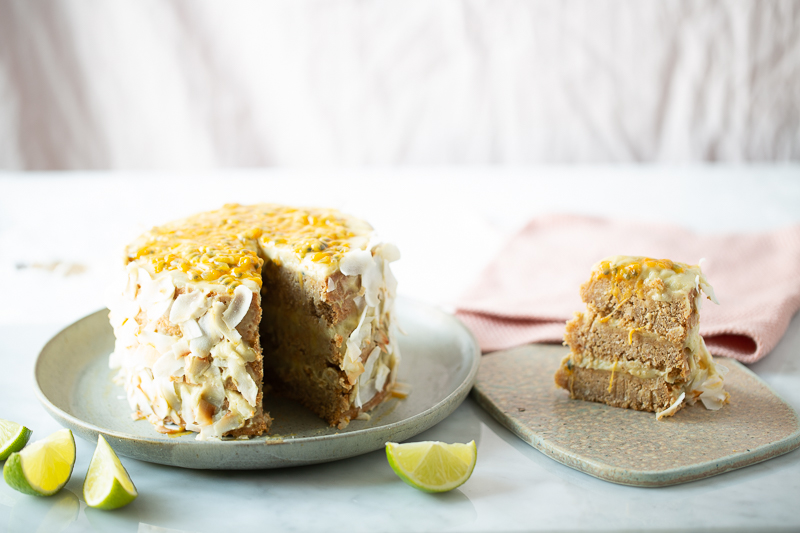 The rest of the work was pretty easy. All the ingredients are readily available in most supermarkets. Usually Austrian supermarkets have a small exotic fruit section. I don't know how it is elsewhere but I'm sure you can find passionfruit in Asian markets as well. I used the cake recipe from another recipe of mine and simply altered it slightly to fit this cake. I leave you with this little poem of mine that I wrote for my son. I hope you like it.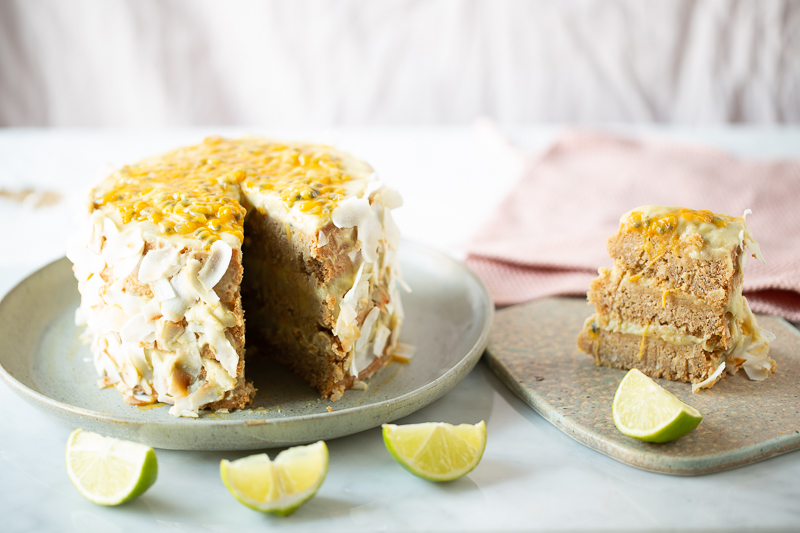 You grew out of my heart
At first like a fine thread of silk
Pulling me gently in your direction
My ears started listening, my eardrum was your heartbeat
Increasing in volume and space eventually becoming
My whole universe.
And making me the most open wound and embrace all at the same time
Never to look back and never to know what it is that makes me feel,
Makes me feel so connected to the whole
Ready to let go of everything just to get a glimpse of you.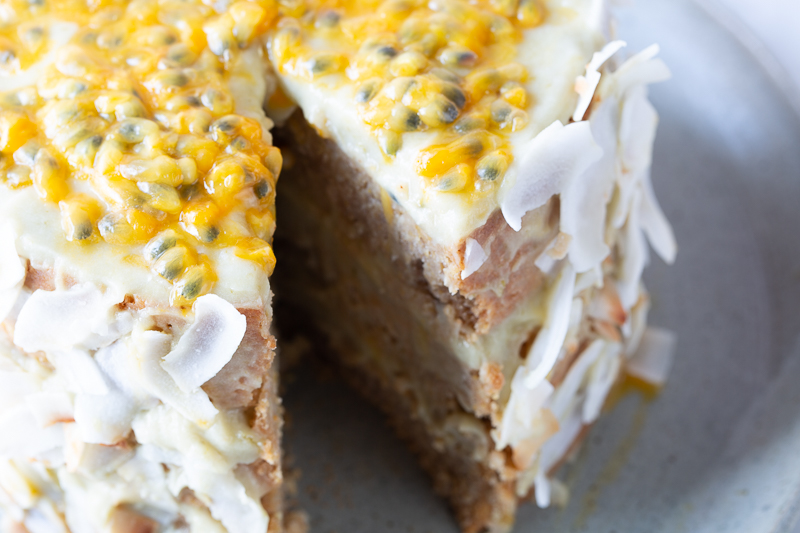 Coconut Lime Passionfruit Cake
Ingredients:
For the cake:
coconut oil or other oil to grease the pans
90 g coconut flour
90 g brown rice flour
50g almond flour or almond meal
50 g dessicated coconut
50 g potato starch
1 Tbsp tapioca starch
1/4 tsp guar gum
200 g coconut sugar
1 1/2 tsp baking powder
1 tsp baking soda
finely grated zest of 2 unwaxed limes
pinch of fine sea salt
400 g coconut yogurt
180 g virgin coconut oil
aquafaba, the liquid from one can of chickpeas
Lime Curd/Frosting:
400 ml coconut milk (one can of coconut milk)
60 g cashew, soaked
3-4 limes. juice and zest from 2 limes
30 g corn starch or arrowroot
1 tsp agar agar powder
a pinch of vanilla powder
a pinch of salt
To decorate:
coconut chips
4 passionfruits, cut in half and pulp scooped out into a bowl
Method:
Preheat the oven to 180 °C/350°F/gas mark 4. Oil the sides and the bases of 3 x 20 cm (8 inch) loose-bottomed cake tins (pans). Line the bases with baking parchment.
In a bowl mix together the coconut flour, rice flour,dessicated coconut, almond flour, potato starch, tapioca starch, guar gum,coconut sugar, baking powder,baking soda, lime zest and salt, using a whisk to disperse all the ingredients evenly. Separately combine the yogurt, coconut oil, then mix into the dry ingredients. Whip the aquafaba with a whisk attachment until fluffy and the aquafaba starts to form peaks. Fold in the aquafaba into the cake keeping the batter as airy as possible.
Divide the mix between the 3 tins (pans) evenly. Smooth out the tops with a palette knife or the back of a spoon.
Bake for 15 minutes, rotate the tins (pans) and bake for a further 10-15 minutes, or until the tops are golden brown and a skewer inserted in the centre of one of the cakes comes out clean. Leave to cool. They can be frozen at this stage for up to 1 month.
Blend the coconut milk, cashews,lime juice, zest, vanilla and salt until smooth, about 2 minutes.
Add agar agar to the coconut mixture and bring it to a simmer stirring constantly. Add the arrowroot dissolved in a couple of tablespoons of water to the simmering liquid and stir until it thickens, about 1 minute. Let cool completely before cooling in the fridge. Put in the fridge to chill for at least 2 hours. Blend once more to make it spreadable.
Build the cake by spreading each layer with one third of the lime coconut cream, trying to top the stack with the most attractive sponge.
Decorate the cake with the coconut chips starting at the bottom of the cake and moving up to the top leaving the top empty.
Place the passionfruit pulp in the centre of the cake. Chill for an hour or until ready to serve.
Note: In vegan baking we rely on thickening agents to achieve similar consistencies to regular baked goods. It is necessary to experiment a little in order to achieve the right balance. If you want to test the consistency, try putting a small amount of the liquid in the freezer for a few minutes to see how the overall outcome will be. If it is sturdy then you are on the right path. If it is still loose you can adjust by adding another 1/2 tsp of agar and reheating it again. Make sure that the liquid you dissolve your agar in is cool.Baking is about trial and error. Practice makes perfect! Happy baking!