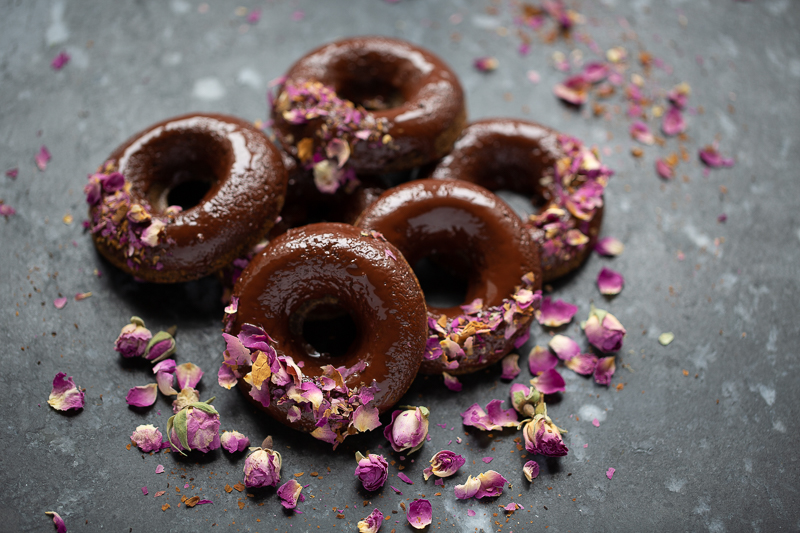 30 Apr

Chocolate Poppyseed Donuts (V& GF)

Where has the time gone? I can't believe that its almost May. That seems the time of year when I focus primarily on expanding my dessert repertoire. If you look at the content I'm creating lately it would seem that I'm only eating desserts but don't worry, I'm not. Most of the things land in my kids stomach and sometimes my neighbours also get leftovers if my teenage son doesn't happen to be home. These chocolate poppyseed donuts were gone in a flash and I'm sure that anything with chocolate and donut in the equation will disappear in no time.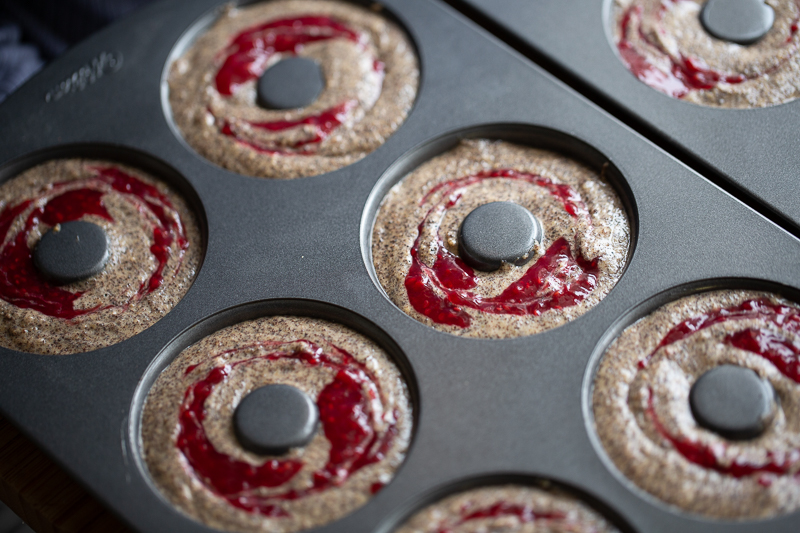 I'll try to be as modest as I can but in all honesty I was impressed with myself. This says a lot because I'm extremely self-critical. On a side note, these are baked donuts so they don't have nearly as much fat as regular donuts and are quite light. I don't dare call them healthy but they are as close as you'll get to healthy considering that they are naturally sweetened and made with natural wholefood ingredients.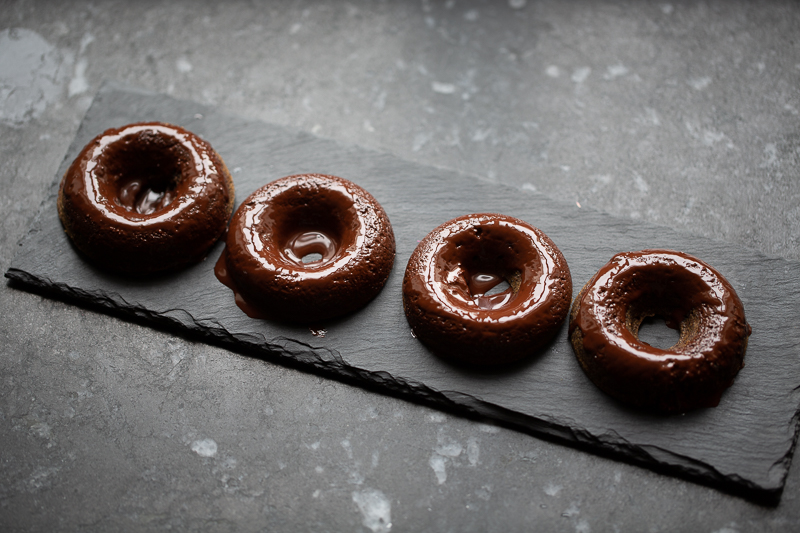 Baking with Poppyseeds
The ingredients are fairly simple for a gluten-free recipe. If you are not familiar with baking with poppyseeds it may take a little adjusting to get used to them. In Austria there is a long tradition with baking with poppyseeds and not like in the U.S. where they are merely sprinkled on top baked goods but a fairly substantial amount is used and before baking it is necessary to grind them into a fine flour as you would other nuts and seeds. The aroma that comes out of them is divine and much more potent then if you would leave them unground. Typically you'll find them in strudels or in combination with apples in cakes which is another winner of a cake, but that is for another recipe.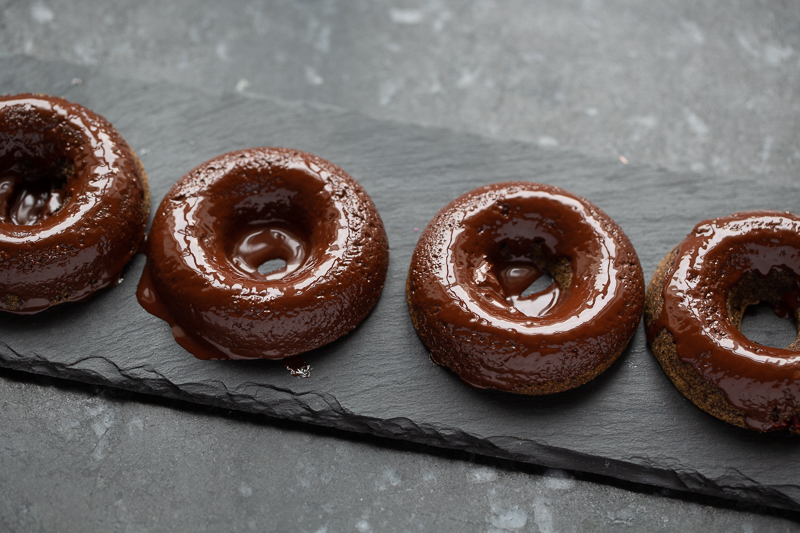 Gluten-free Baking
Before you get going with gluten-free baking you definitely need to stock up on gluten-free flours or a gluten-free flour blend. Living in Austria there isn't the greatest selection that you may find the U.S. or the U.K. but things are improving and I finally found a German company called Werz that makes a decent blend that is made of buckwheat flour, millet flour, brown rice flour and a little starch. When making your own blend, it's best to make a mix of at least three different flours and also some kind of starch. I'll make a post soon about gluten-free baking and what to look out for. After that I add one part oats, nuts or seeds into the blend and this time I used ground poppyseeds instead of almonds. The overall texture was spot on with a lovely crumb.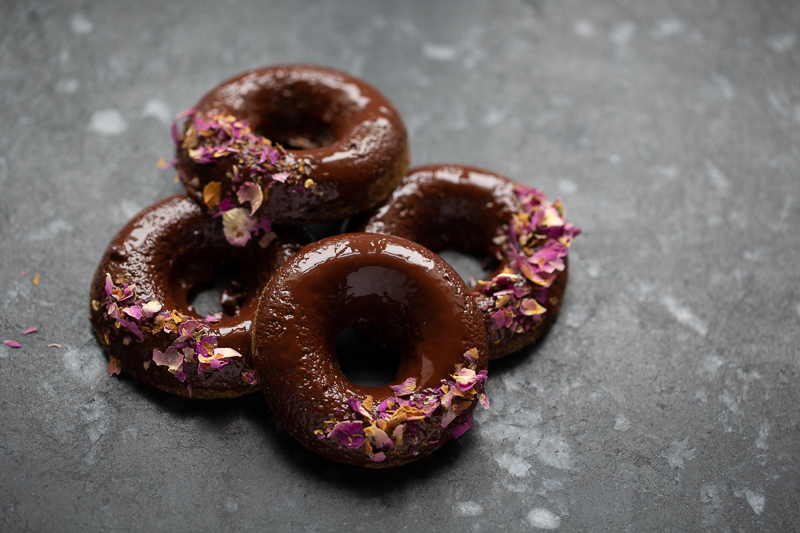 So to sum things up, once you have all your ingredients together nothing is standing in your way and you can get baking. I am not a professionally trained chef but during my short foray in professional kitchens I learned that organisation or 'Mise en place' as they call it in pro kitchens is one of the most important parts of baking or cooking successfully. Timing is so essential and when you have everything prepped in advance you can focus on the act itself and you are much more focused.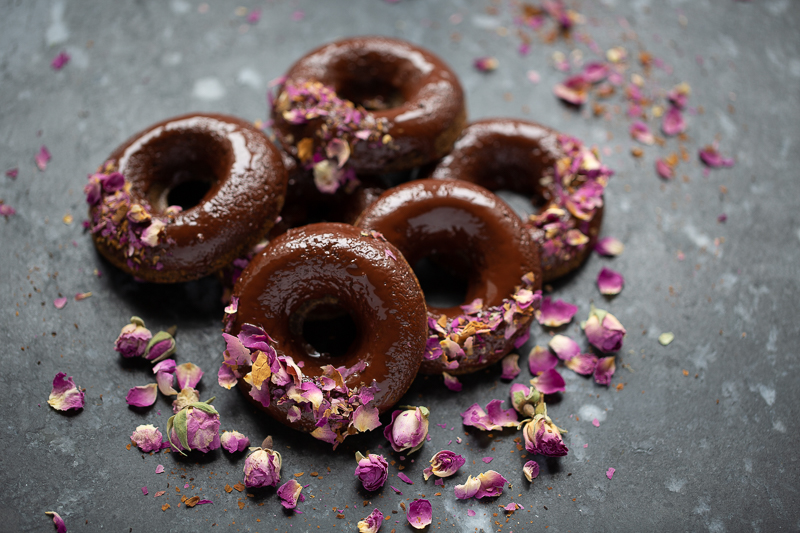 Chocolate Poppyseed Muffins
makes 12 donuts
Equipment: you will need two donut pans
Donuts:
Aquafaba, the liquid from one can of chickpeas
60 ml coconut oil, melted
1 tsp apple cider vinegar
80 g coconut sugar
60 ml maple syrup
100 ml almond milk or other plant-based milk
1 tsp vanilla extract
120 g gluten-free flour
120 g poppyseeds, ground into a fine flour-like consistency
2 tsp baking powder
1/2 tsp baking soda
1/2 tsp salt
100 raspberry jam, optional
Chocolate Glaze:
3 Tbsp coconut oil
2 Tbsp maple syrup
5 Tbsp cocoa powder
a pinch of salt
rose petals, optional
Method:
Preheat the oven to 180 °C. Grease two donut pans with a little coconut oil.
In a large bowl, whisk all the dry ingredients together until thoroughly combined.
In another bowl whiskp the almond milk, maple syrup and vanilla extract. Add this mixture to the dry mixture until just combined.
Whip up the aquafaba in a clean bowl until it forms soft peaks like egg whites.
Fold the aquafaba gently into the mixture so that it stays voluminous.
Spoon the mixture into the donut tins and add a teaspoon of raspberry jam to each donuts. Using a chopstick, swirl it into the batter with one turn. Bake for 20 to 22 minutes.
Remove from the oven and let the donuts cool on a cooling rack while you make the glaze.
Melt the coconut oil and transfer it to a bowl and whisk in the other ingredients until it is smooth. Refridgerate for 10 minutes so that it thickens a little.
Glaze the donuts and decorate with rose petals if you wish.