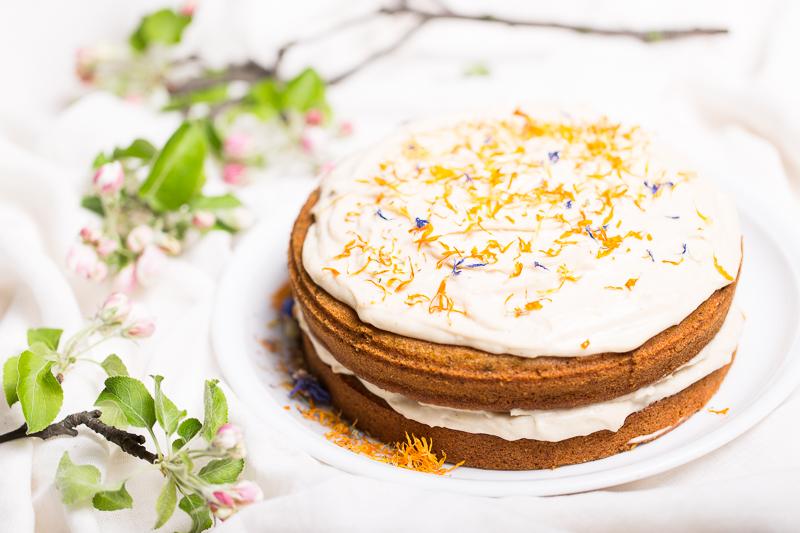 01 May

Carrot Cashew Citrus Cake

April has flown by and I actually wanted to post this recipe for Easter and my computer broke down. I had a very intensive month and I hardly had any time to tend to anything and I was kind of glad to have a little break from blogging but in the back of my mind I was thinking about developing new recipes and was missing the whole process. Sorry for the delay and I just wanted to say that this is another winner of a cake, perhaps not as decadent as the last one but it has its place and is actually quite healthy if you can call cake healthy. I was noticing a recurring thread in all my posts lately and that is probably quite obvious that I love flowers and in particular wild flowers. I do a lot of hiking in and around Vienna and I always stumble across beautiful wild flowers and mostly I can't resist and end up picking some. I actually bought some props recently because I thought it would be nice to show some kind of variety in my pictures but I keep on coming back to the flowers and my husband loves to photograph flowers as well.

My husband is a professional photographer and way back in the day when I was still thinking about writing a blog but didn't have the courage to I never thought that one day he would be taking pictures of my food. I assumed he was only interested in taking pictures of people and the occasional landscape photograph. I had to convince him to try and after some trial and error phases I can say we are well on our way. I never thought it would be so challenging but I must say that it is quite laborious. We each have very clear ideas about how we want things to look and we have to continuously work at finding our own visual language. I am mostly responsible for styling the food and he focuses on the photographic realization. I am so happy to be able to work with him because we can each learn to appreciate our strengths more and work on improving our weaknesses.
This cake was actually my first foray at baking for a fair. To be more specific I baked a few cakes for a vegan easter market in Vienna and this was the first cake that I made. It has a good dose of carrots, walnuts for crunch and flavour  and juicy and sweet currants which are my favourite sort of raisin. They are smaller and have a very distinct flavour reminiscent of berries. The cashew cream is spiked with lemon and orange zest to give it extra freshness. I topped it all off with some dried calendula (marigolds). This is a cake I come to over and over again and it never fails and I am sure that it will win over even the biggest sceptic. Let me know if you try the recipe and tag me on instagram #veganart if you make it. Wishing you a lovely first of May!

Carrot Cashew Citrus Cake

Ingredients:

300 g spelt flour(whole grain)

1 teaspoon arrowroot

1 teaspoon ground flaxseeds mixed with 1 tablespoon of water

150 g coconut blossom sugar

1 teaspoon baking powder

1 teaspoon baking soda

2 teaspoons cinnamon

1/4 teaspoon salt

240 ml almond milk or other plant-based milk

2 tablespoons aquafaba

160 ml olive oil or coconut oil

1 teaspoon apple cider vinegar

240 g finely grated carrots

grated zest of 1 orange

2 tablespoons currants

1 large handful coursely chopped walnuts

1 teaspoon finely grated fresh ginger

Cashew citrus frosting:

200 g cashew nuts, soaked for 2-4 hours

130 ml water

80 ml maple syrup

1/4 vanilla pod, split lengthways and seeds

scraped out

finely grated zest of one orange

finely grated zest and juice of one lemon

a pinch of salt

80 ml coconut oil

Decoration:

dried calendula

walnuts

Method:
Start off by making the frosting because it needs time to cool and thicken.
Combine all the ingredients except the coconut oil and bled until completely smooth, scraping down the sides of the food processor a few times. Add extra water a tablespoon at a time, if necessary. Finish off by blending in the coconut oil. Cover with cling film and refrigerate for about 2 hours or longer.
Preheat the oven to 180 °C. Line two spring form pans with parchment paper. I used 20 cm springform pans. Toast the walnuts in the oven or on the stovetop until lightly browned , chop them and set aside.
In a large bowl whisk together all the dry ingredients and add the chopped walnuts.
In another bowl combine all the wet ingredients and whisk until emulsified.
Combine the wet and dry ingredients together and then fold in the grated carrots and corinths at the end. Divide the cake batter into the two prepared cake pans and bake for about 28 minutes or until a toothpick placed into the center of the cakes comes out clean. Remove from the oven and let the cakes cool completely in the pans.
When the cakes are completely cooled off place one layer on a plate and frost with the cashew frosting placing the second layer on top. Cover the remaining frosting on the second layer and decorate with the flowers. Refrigerate and serve when desired.
Enjoy!