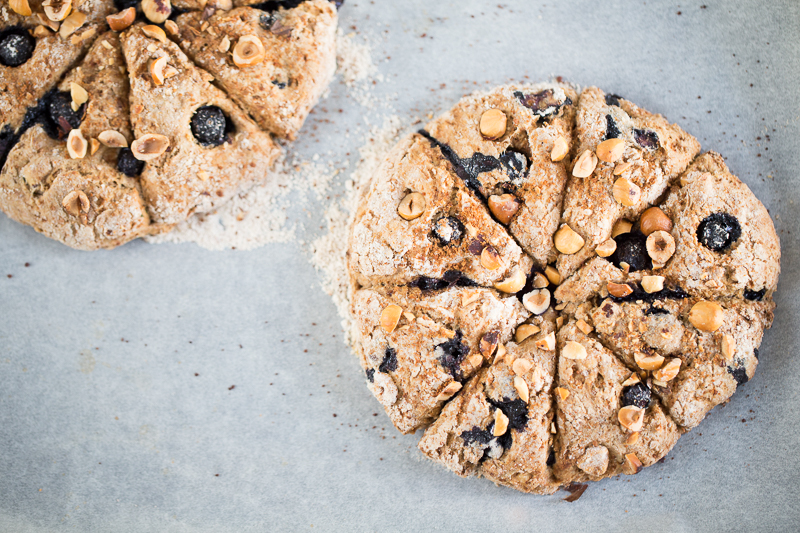 31 Jul

Blueberry Hazelnut Scones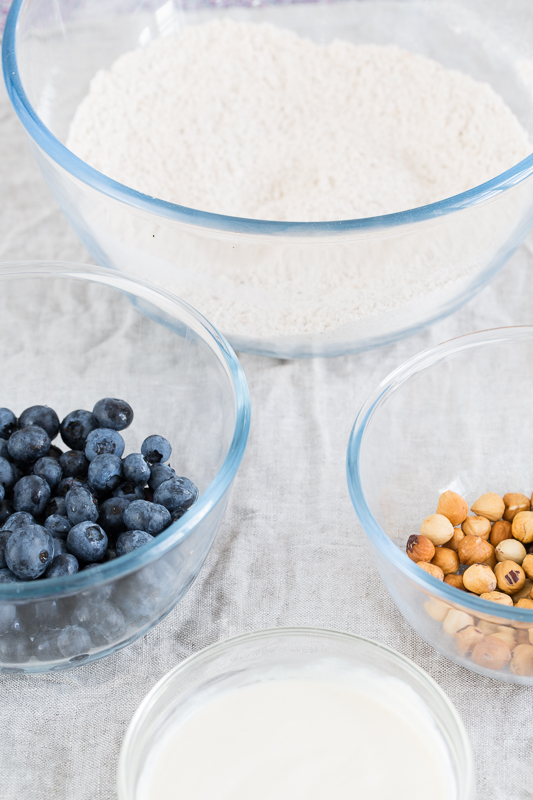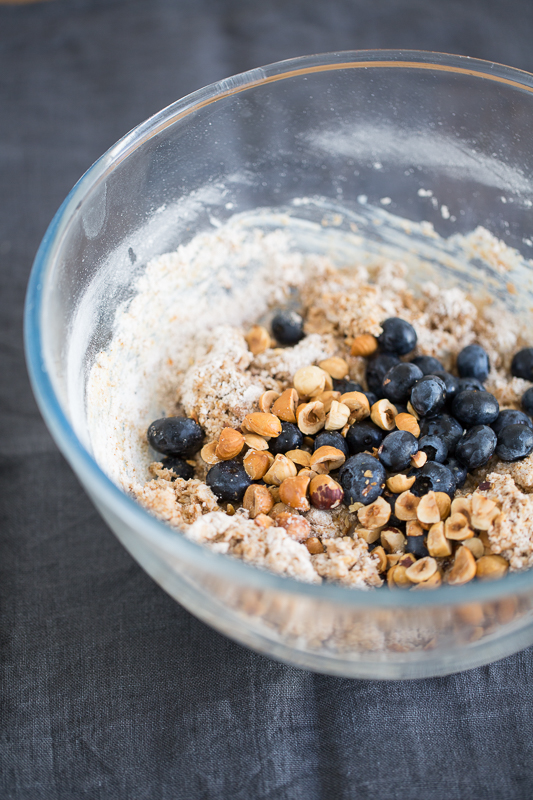 This recipe has been long in progress and I must say that I didn't intend on posting it. Thanks to my friend Eva you can indulge in a special recipe that I have had up my sleeves for many years but have never shared with anyone. The beauty of this recipe is that you can adapt it to any fruit for any season. In the fall you can use plums and in the winter  finely grated apples, all year round with dried fruits and nuts and in the spring with strawberries. You get the idea. I am not a very precise baker. I tend to throw things together intuitively and I rarely repeat a recipe. For this recipe I used hazelnuts instead of rosemary which I used last time to keep things interesting for myself. Both are great and I recommend using herbs in baking when you can; they add an unexpected taste which is really refreshing. I've also used lavender and it turned out also well.The real goodness happens from combining yoghurt and baking soda and that is what lends a fluffiness to the dough. Instead of using a plant based milk I used my favourite coconut yoghurt and it works wonders. In the future I would like to use yoghurt more often in baking and of course I would be delighted to share the successes with you as well. One last thing before I move on to the recipe. I just  This One last   thing before I move on to the recipe. I just enrolled in my first ever blog  award: Austrian Food Blog Award. I have no idea what to expect but I am thrilled to be taking part. For me it feels like a huge leap into no mans land however I do have an overall positive feeling forward It   has been almost a year since I have started blogging and it has been a tremendously enriching experience. At some point I hope my blog will reach a larger audience and if this contributes to that   happening it will have been a success in my eyes. I will keep you posted and of course I would be thrilled if you give me your vote but until then I will keep you busy with more delicious recipes. Drop   me a note if you have any questions and if you do happen to make them, please let me know via social media #veganart or wherever you please. Lots of love and light, Aleksandra.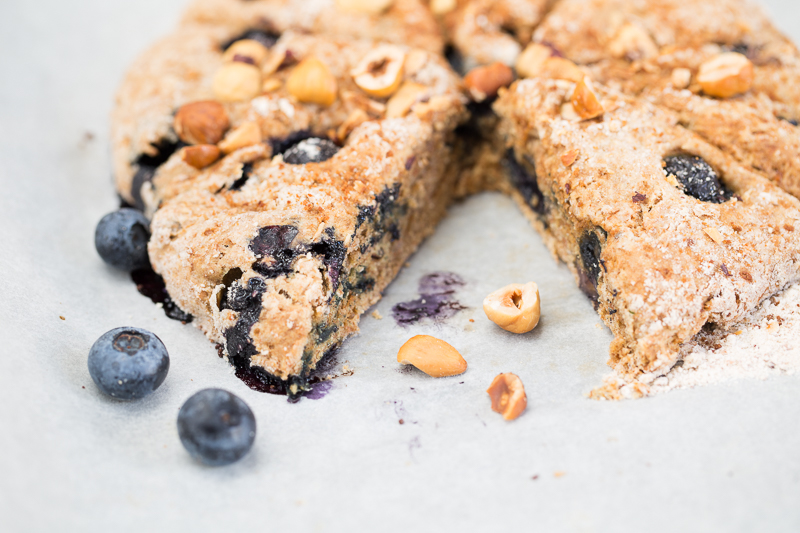 Blueberry Hazelnut Scones
  makes 16 scones
  Prep +cook time: 40 minutes
  Ingredients:
  180 g / 1 1/2 cups whole grain spelt flour
  60 g/ 1/2 cup light spelt flour
  1 tablespoon baking powder
  1/2 teaspoon baking soda
  75 g / 5 tablespoons coconut sugar
  75 g / 5 tablespoons coconut oil, partly solid *
  140 g / 1/2 cup coconut yoghurt or other plant based yoghurt
  2 tablespoons water, and more if needed
  1/2 teaspoon cinnamon
  1/2 teaspoon salt
  15 g / 1 tablespoon chia seeds
  60 g / 1/2 cup hazelnuts, toasted and chopped, some reserved to garnish on top
  120 g / 1 cup fresh blueberries
  *Note: the recipe works best when the coconut oil is soft and scoopable but not entirely melted. If too liquid, put in the fridge so that it firms up. If too hard put in a hot water bath for 5 minutes.
    Method:
Preheat the oven to 180 ° C.
Combine the yoghurt and the baking soda in a small bowl and set aside. The yoghurt will get airy and light.
In another bowl combine the flours, baking powder, coconut sugar and salt and whisk together.
Drop the coconut oil into the dry ingredients and mix into the flour.Fold in the yoghurt mixture and some water if necessary and then the hazelnuts, chia seeds and blueberries.
Place the dough on a lightly floured surface and form into a large disc. Cut in half and then form them into two circles of about 1,5 cm width. Place both circles on parchment paper and put in the fridge to cool for a few minutes.
Remove from the fridge and cut each circle of dough into 8 pieces.
Dust each circle with some extra sugar and hazelnuts.
Bake in between 20 and 25 minutes or until the scones are lightly browned and the blueberries release their juices.
Serve warm with some good tea of your choice.