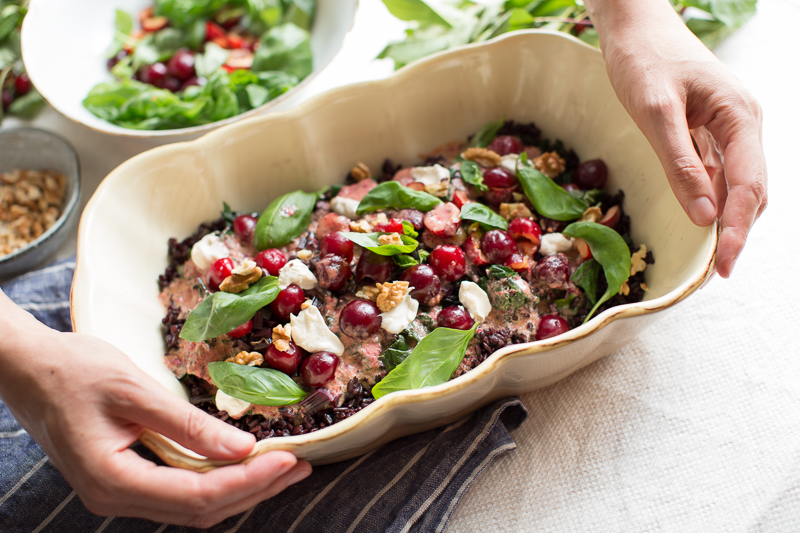 20 Jun

Black Forbidden Rice & Cherry Salad

For those of you who are asking themselves "What the hell is forbidden black rice?" I have a little information for you. Besides being a great source of iron, magnesium and Vitamin E it is incredibly fragrant and has a wonderful creamy texture suitable for rice pudding. The first time I saw it was used in a coconut rice pudding with bananas. At the time I thought it sounded ever so exotic and dreamy. Until now it is still one of my favorite breakfasts although I don'T make it that often. Like many ingredients that I didn't grow up with it took time for me to find them and also to learn how to use them properly. Once the barrier was broken I learned that there is a wealth of opportunities not only to broaden my culinary knowledge but also to connect with other cultures which I find most enticing. The notion that certain ingredients are hard to come by and that they are not accessible is outdated in my opinion, considering that in most cities you can find ethnic food stores or shop online. I found my rice at my local supermarket in the Asian section where sriracha and the glass noodles are sold.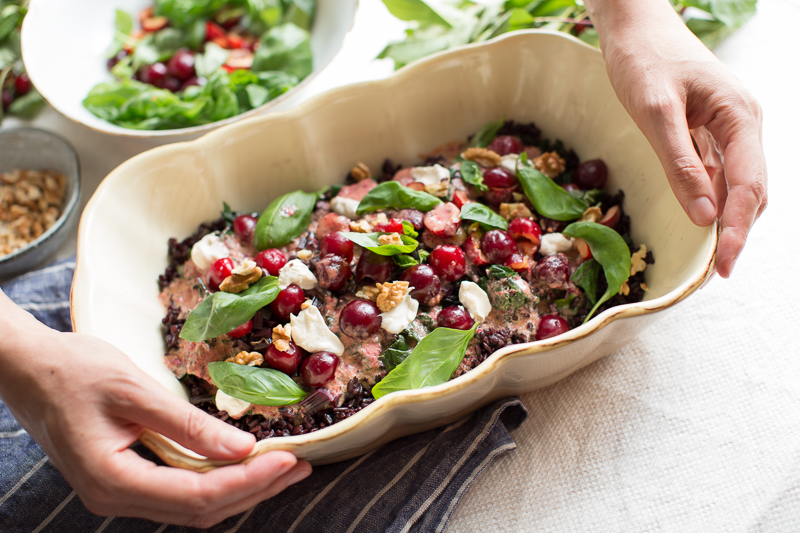 In my local organic supermarket they have an Italian variety called Black Venere Rice which can be successfully substituted and is related to the Asian original. If you still have trouble finding it you can replace it with regular white rice or other light colored grain and the salad will get a beautiful pinkish hue from the cherries.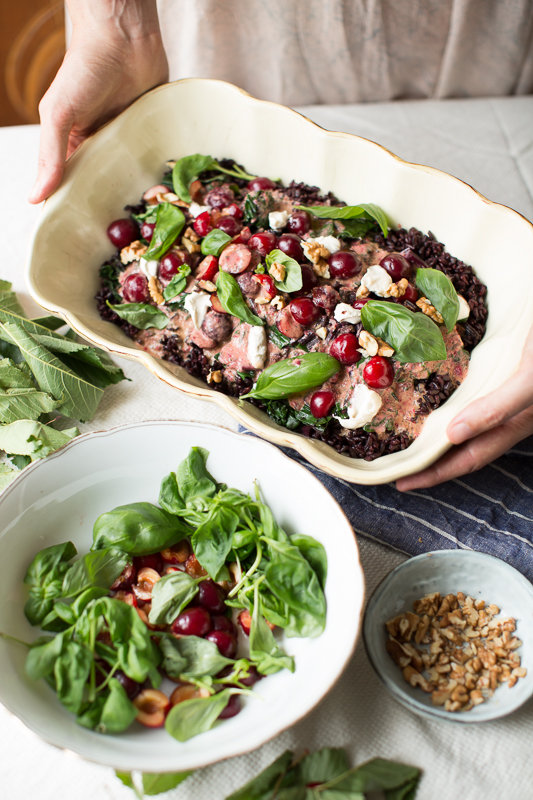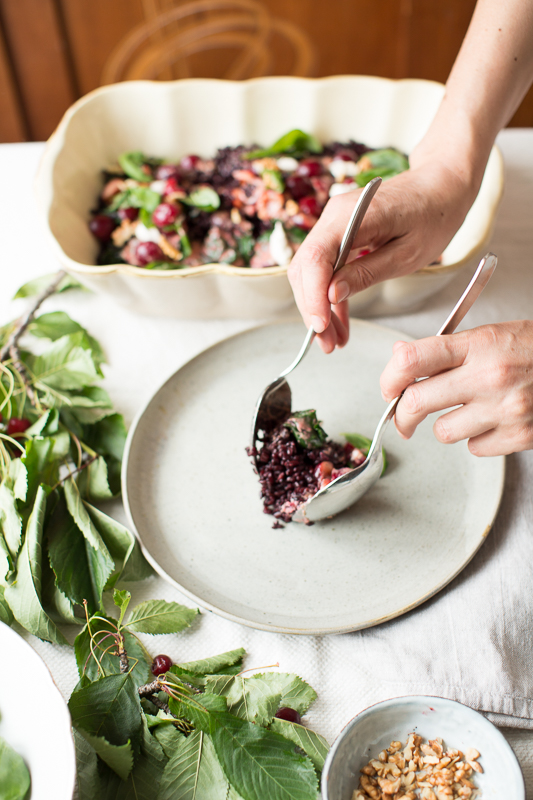 The Cherries are the real star of this salad and since cherry season is so short, I urge you to make this salad as soon as you can. I could write so many recipes and sing praises about my love of cherries but I will try to restrain myself and just offer you a recipe and some ideas about how you can use cherries in this very short season. Besides the obvious uses in desserts, like cherry pie and cherry cakes I have a favorite dessert which I still haven't managed to veganize successfully, so you're going to have to forgive me and that is Clafoutis (a custard like dish made with vanilla-infused milk and eggs and a little flour). It is such a simple and divine dessert and I could go on and on but I do have another recipe in store for you and it involves cherries, vanilla but I won't tell you more because I have to keep things a little suspenseful. Another savory option which I haven't tried yet but think could go very well is a beet and cherry gazpacho instead of the traditional cold tomato soup. It is chilled of course and I think it could be quite amazing.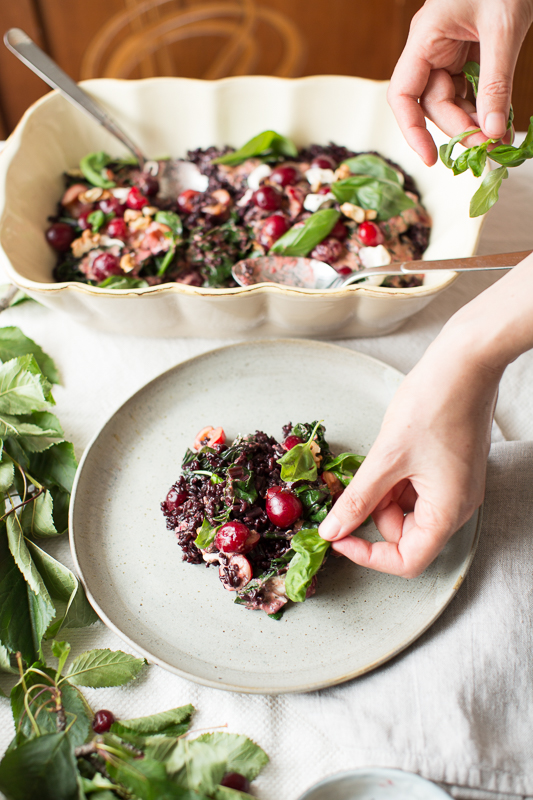 As you can see there are enough possibilities once you let your imagination going and its all about trying. If you don't try, you won't know how it turns out. This salad is simple and is served best as a side dish with other smaller plates, maybe even tapas style with a few other small dishes.  The salad can be made within an hour, requires few ingredients and is very light which in my opinion all summer food should be. The hardest part is pitting the cherries. If you have a cherry pitter this can be done in less than 10 minutes. I have this one.
If you are feeling adventurous, you can also add some cheese to your salad. I added some of my own homemade one.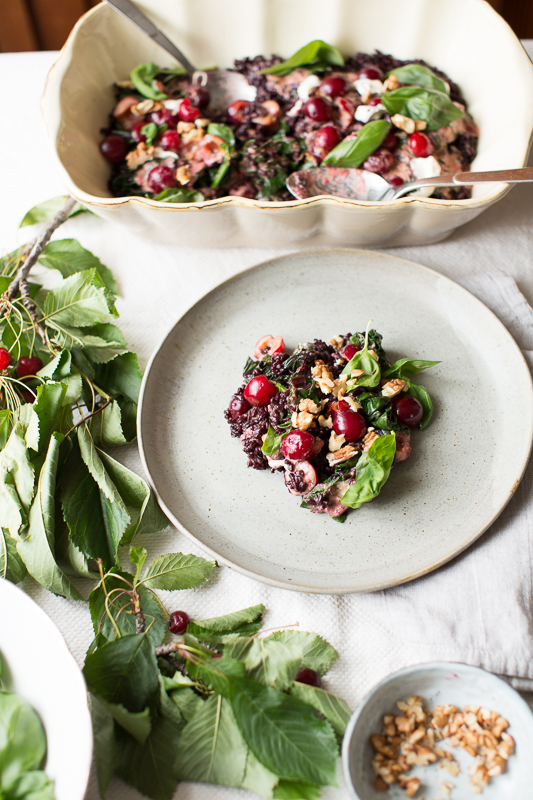 Feel free to improvise with this recipe and let me know what kind of versions you come up with. If you would like to connect with me or ask me anything food-related, drop me a note here or on Instagram or wherever. If you share the recipe don't forget to tag me #vegan__art. Thank you and have a lovely day! xo Aleksandra
Black Forbidden Rice & Cherry Salad
Ingredients:
250 g black forbidden rice
a bunch of beet greens or swiss chard
two handfuls of walnuts
250 g pitted cherries, one third reserved for cherry dressing
100 ml olive oil
2 Tbsp red wine vinegar
fine sea salt
a bunch of basil leaves
cashew cheese, optional
Method:
1. Rinse the rice under cool water and plce in a pot with twice as much water, for one cup of rice two cups of water and so on.
2.Bring the rice to a boil and lower the heat to a gentle simmer. Cook for about 45 minutes or until the water is absorbed.
Season with salt and fluff the rice with a fork.
3. Transfer the rice to a large salad bowl and let it cool at room temperature.
4. Blanch the beet greens in a large pot by adding plenty of water and bringing it to a boil. Put the beet greens in along with a generous pinch of salt and cook for about one minute.
5. Immediately strain the beet greens and splash with cold water. Let the beet greens drain and add them copped to the rice.
To make the cherry dressing, add the reserved cherries, salt, red wine vinegar and olive oil to a blender and blend until smooth, about 1 minute.
6. Dress the rice with the cherry dressing and place the remaining cherries, basil, walnuts and cashew cheese if using and serve immediately or chilled.